Top 10 Kid Friendly Fine Dining Restaurants In New York
14 May 2010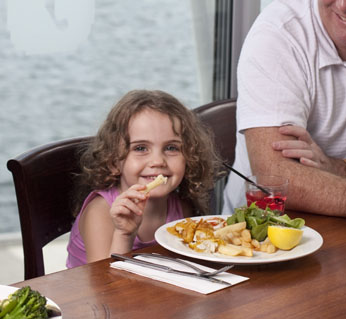 The darker side of delectable food and authentic décor is revealed. Entry of children in fine dining restaurants is the latest talk of the town. Fine dining restaurants in New York City are now popularly classified as kid free and kid friendly restaurants. Some upper echelon restaurants that certainly welcome designer bags and high heels do not seem to allow bulky strollers and colorful plastic cutlery up to the dinner table. On the contrary, there are certain fine eateries in New York that find little amusing ways to satiate under3- gastronomists. The top 10 of those kid friendly fine dining restaurants in New York are listed below.
1. Café Boulud
20 East 76th Street
Kid-friendly tastes : Café Boulud offers dishes including risotto balls, spaghetti with Parmesan cheese and fleur de sel butter, Belgian waffles, petite filet mignon with fries and ricotta cheese blintz with apple butter that enable the tods to enjoy their meals to the fullest. The staff is patient and helping. If the cutlery keeps falling from the hands of kids, they replace it one after the other. Saturday lunch and Sunday brunch are especially crated meals for under-3 crowd.
2. Fred's At Barneys New York
660 Madison Avenue
Kid-friendly tastes : Pastas in small portions with San Marzano tomato sauce, pizza and grilled cheese with fries are available here. The restaurant offers ample stroller parking. Also, they allow strollers inside in case the tod is too small for a high chair. Children's orders are given the top priority in Fred's kitchen. Sunday brunch, lunch and dinner several times a day are kid central.
3. Artie's Deli
2290 Broadway, near 83rd St.
Kid-friendly tastes : The children's menu at Artie's Deli offers grilled cheese, fries, chicken fingers and hot dogs wrapped in a knish. These snacks are all time favorites among kids. Free dishes of pickles are served before the entrees and a slice of birthday cake can be ordered even if it is not your birthday.
4. Big City Bar&Grill
1600 Third Avenue, at 90th St.
Kid-friendly tastes : Big City Grill offers a typical chicken-finger fare for kids. But the chief attraction here is the gigantic play space for children ages 1 to 9. While grown-ups enjoy their last sip of coffee, kids can run around, play games and climb on slides. Children will surely have a great time here.
5. @SQC
270 Columbus Ave., near 72nd St.
Kid-friendly tastes : @SQC may sound an awkward name but it extends a warm welcome to children of all ages. Soups, crispy chicken and Belgian-style frites top the list of baby-food menu. The signature hot chocolate "life in a cup" is popular so much so that it is both on the drink as well as the dessert menus.
6. L'atelier De Joel Robuchon
57 East 57th Street
Kid-friendly tastes : Homemade ketchup with hand-carved fries and spaghetti with butter are knockouts here. This elite dining destination welcomes kids with amenities like coloring book and crayons, a free Beanie Baby and a portable DVD player running age-appropriate movies. Kid central evenings are arranges once every week.
7. China Fun
246 Columbus Ave., near 71st St.
Kid-friendly tastes : Although the décor at China Fun is plain the open kitchen draws attention. The ducks hang that here in Chinatown fashion look amazing. Flat chow fun noodles, dim sum, unspicy Cantonese and hot Szechuan are knock outs on the kids menu.
8. Inside
9 Jones St., near W. 4th St.
Kid-friendly tastes : Inside offers kid-pleasures namely crispy rock shrimp offered in fun paper cones. The special kids brunch menu includes pasta with butter, matzo brei and baking powder biscuits with strawberry butter.
9. Ma Ma Buddha
578 Hudson St., at W. 11th St.
Kid-friendly tastes : Once your little ones get tired of playing, stash their scooters at Ma Ma Buddha. The waitresses here are super-friendly and they look after every smallest need of your child. Anything in Chinese that your kid may wish to eat will be made at their kitchen.
10. Gramercy Tavern
42 East 20th Street
Kid-friendly tastes : Mushroom lasagna, smoked kielbasa, meatballs and bacon –and-cheddar biscuits are popular with kids. They offer every kid, free milk, stroller check-in and a mini cookie. The staff here is so gracious that people prefer stepping in even for their first post-birth meal.  
Top 10 Kid Friendly Fine Dining Restaurants In New York