Sweet Potato Pie Topping Ideas

5 Jan 2012
As gorgeous holiday dessert, sweet potato pies are versatile. This property enables them to be relished with various toppings, from the classic pecan to the exotic chocolate encrusted one. Here are some exciting sweet potato pie topping recipes for transforming these desserts into luscious delicacies…
Top 5 Toppings For Sweet Potato Pie 
1. Pecan Topping
This is the classic topping for a sweet potato-rich pie. The creamy and gooey base gets crunchiness with this topping. Flavored with brown sugar, the pecan blends with whipped cream making an alluring topping choice. Add handful semisweet chocolate chips for added flavors.
This topping recipe adds a flavorful twist to the classic marshmallow meringue topping. Marshmallow crème blended with pineapple juice makes a wonderful topping for this Thanksgiving dessert. Sprinkle few caramelized walnuts atop the sauce just before you serve.
This is my favorite. Be it cupcakes, muffins, or pies, peanut butter enhances the glamour of the desserts. This creamy topping can be prepared with fewer efforts. Just blend peanut butter, vanilla extract, sugar, cold milk, and dessert topping mix to a fluffy mixture. Spread this atop warm pie and serve immediately.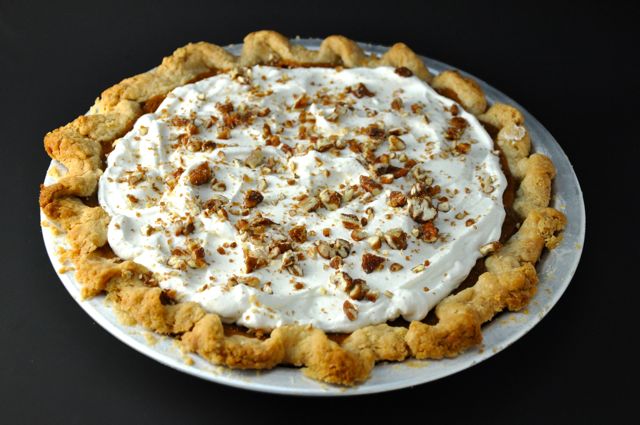 Butter nut crunch is a dessert on its own. The combination of walnuts and chocolate is undeniably rich and luscious. The candy can be either used to top as such or just top the pie with a hazelnut-chocolate spread and then, embellish with the candy slices!
5. Maple Cream
This is actually a wonderful cocktail that can be enjoyed at any point of time. Once, I tried to use it as a glaze for this particular pie, and the result was fabulous. The flavors of brandy perfectly gels with the sweetness of this pie.
Every sweet potato topping idea is unique on its own. So, if you wish to add more glitter to your party, then be creative!
Image Credit: ifood.tv, makinglifedelicious.com
Sweet Potato Pie Topping Ideas