Hoisin Sauce Substitute Ideas
4 Jan 2012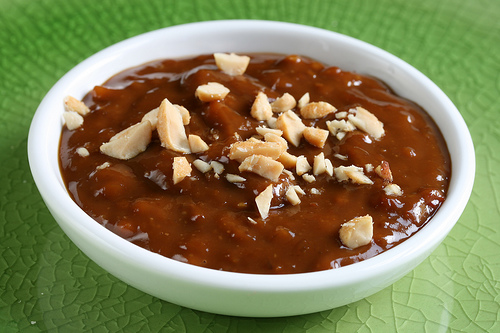 You need to look for Hoisin sauce substitutes in case you find yourself out of Hoisin sauce while cooking peking duck, moo shu pork or vegetable stir fry. Here are a few ideas listed for you:
1) Substitute 1
You can make this substitute with ingredients available in your pantry, such as dark soy sauce, light soy sauce, garlic powder, white pepper powder, sesame oil, hot chili sauce, honey, and peanut butter. Mix everything together in a bowl and store in a clean jar in refrigerator. Use as required.
2) Substitute 2
This substitute can be made with even lesser ingredients like pitted prunes, crushed garlic, dry sherry, soy sauce, and water. Prunes are simmered, pureed, added to soy sauce, garlic, and dry sherry before being whisked again for a smooth consistency. Chili flakes can also be added to this mixture to make it extra hot.
3) Substitute 3
This is a little more exotic substitute, made with canned apricots, plums, and peaches. As a result, this substitute is a little sweeter and better suited for barbecue recipes.
4) Ketchup/Molasses
Yes, you can use the dreary old ketchup, combined with molasses (bought from your local food mart), in place of Hoisin sauce.
5) Sweet Bean Sauce
Just like the substitute number 3, this sweeter sauce can be  used in place of Hoisin sauce, but be cautious while using this substitute lest your dish becomes more sweet and less savory.
Although, Hoisin sauce is irreplaceable in Chinese cooking, you can trick your family and guests by following these Hoisin sauce substitute ideas.
Image Courtesy: comewokwithme.com 
Hoisin Sauce Substitute Ideas