Mayonnaise Substitute Ideas
4 Jan 2012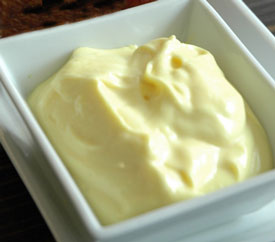 This is the right time to look for mayonnaise substitute ideas because, after all, you like to use this much-loved condiment at home with your salads, bread, and chips but the regular mayo (short for mayonnaise) is full of fat, which is harmful for you.  Here are a few substitute ideas for mayo, which taste similar but come without the extra calories:
1) Non-Fat Butter Substitute
While making mayonnaise at home, you may use non-fat butter substitute as well as non-fat sour cream instead of the usual butter and sour cream.
2) Mustard
Mustard works the same way as mayonnaise in sandwiches but it comes at zero calories, as compared to 90 calories per tablespoon of mayo. Instead of mustard, you may also use a mixture of vinegar and oil.
3) Nayonnaise
This wonderful substitute for mayonnaise is made of tofu and can be purchased from most of the health food stores. It is lower in fat than regular mayo but tastier as usual.
4) Fat-Free Substitute
Just like the non-fat butter substitute, you can make another low-fat version of mayo, with fat-free sour cream, capers, and pepper/garlic seasoning. This substitute works best as a flavorful dressing.
5) Yogurt
This is a marvelous mayonnaise substitute idea as it contains reduced fat and has lesser calories in comparison to mayo. Yogurt is also good for the digestive system, unlike mayo.
Mayonnaise may have pervaded the fast food market, but with these Mayonnaise substitute ideas, you can keep yourself and your family healthy while still enjoying the tasty treats.
Image Courtesy: bigoven.com
Mayonnaise Substitute Ideas