SimplyDeliciousLiving.tv's Holiday Table Setting Ideas! Make Every Meal An Experience!
11 Nov 2011
Some would consider the "presentation" of a meal almost as important as the taste of the meal itself!  Think about it.  When you go out to dinner, whether it be for an enjoyable meal out or a special occasion, the dining memories created in a beautiful environment — when you dine on attractive plates, with music accompaniment, candlelight and other meal enhancing elements —  the more memorable the meal.
Throughout the Thanksgiving season, there are so many ways to set the table.   Try decorating the table with autumn colors such as beige, gold, red, burgundy, green and various shades in between. Miniature pumpkins and colorful Fall vegetables (and squash such as acorn, ambercup, autumn, banana, buttercup, carnival or other) also look great on the table.  You can also try filling a wicker basket with the vegetables and/or some pine cones, decorative ornaments and colorful ribbon.  Get creative! Why not make it a family project with your partner and children?  This is your masterpiece to share with family and friends.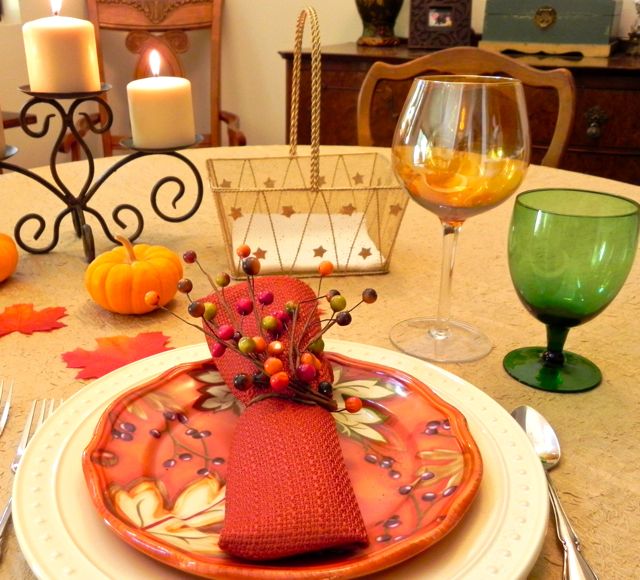 Setting a pretty table doesn't have to mean breaking the bank either.  For example, pictured above, I visited a local thrift store and picked up some pretty cream colored plates ($1.00 each) and the shimmering star basket ($2.00).  The plates were originally from World Market and I got quite a bargain.  The leaf plates I found at Ross Stores ($1.00 each).  I found the topaz colored wine glass on sale at Pier One ($3.00 each!) and the green water goblet I found at my local 99 cent store ($1.00 each).  At Jo-Ann's I picked up a bag of pretty autumn colored leaves (99 cents a bag) and found a pretty decorative item (99 cents per item),  I could twist and configure to use as a napkin holder.  The great thing about all these items is that I can mix and match them with other dishes all year long!
Click here for other table setting ideas!
SimplyDeliciousLiving.tv's Holiday Table Setting Ideas! Make Every Meal An Experience!