Blue Cheese Martini Garnishing Tips
18 Oct 2011
The blue cheese martini is considered as one of the gourmet choices of beverage. The best way to garnish this martini is using blue cheese stuffed olives. However, there are other exotic ways to garnish this special drink. Here I am going to discuss on all these possibilities.
To prepare the blue cheese stuffing at home, the most essential kitchen equipment is a paring knife. You might as well require other tools, depending upon the situation. Stirrers are also must for securing the garnishes on the drink.
Exotic Garnishing Ideas for Blue Cheese Martini
Stuffed Olive Garnish
The blue cheese stuffed olives are available in most of the supermarkets. You can use these for various garnishing purposes. To prepare these at home, use pitted and pickled olives to stuff with blue cheese. Drop one olive inside the martini or pierce few olives through a stirrer to place on the glass.
Rosemary Garnish
A fresh sprig of rosemary is another favorite choice of garnish for the blue cheese martini drink. Attach the rosemary sprig in a stirrer along with blue cheese stuffed olives. Place the stirrer on the martini glass. Alternately, float few fresh rosemary leaves on the martini along with the stuffed olives.
Stuffed Radish Garnish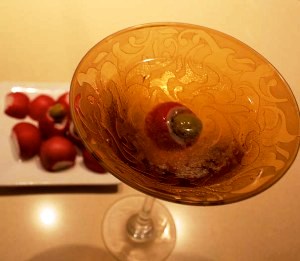 The small and pink colored radishes can be used to stuff with blue cheese for garnishing purpose. Core the radishes at the center with the sharp pointed edge of a paring knife. Stuff the center with blue cheese and press an olive at the opening. Skew these stuffed radishes with a stirrer and place on the martini glass.
Useful Garnishing Tips for Blue Cheese Martini
If you have time, you can prepare the stuffed olives at home. Use pickled olives for great taste and fill the center with mashed blue cheese.
For extra flavor of blue cheese, crumble little amount of blue cheese directly on the drink, just before serving.
Use fresh and small-sized radishes, so that these are not too hard to bite. If you want, you can blanch the radishes before stuffing with the blue cheese.
Offer all the garnishing choices to your guests, so that they can select as per their preference.
Follow these garnishing ideas and tips to enjoy your blue cheese martini to the fullest, with your near and dear ones.
Image Credit: chattygourmet.com, newtritionblog.com, cademccall.com, antoniajo.blogspot.com
Blue Cheese Martini Garnishing Tips