Shrimp Martini Garnishing Tips
17 Oct 2011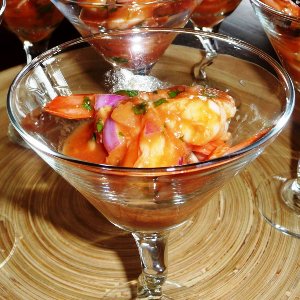 Shrimp martini is an all time favorite preparation to serve in any occasion. You can garnish this special martini in several savory ways. Shrimp, of course, is the most popular garnish, but you can add other choices of garnish to make it more exotic. Read on to learn about them.
You will require some common kitchen tools like paring knife, grater, kitchen shears etc. The requirement of kitchen tools might vary depending on the garnish you are using. For cutting and shaping the garnishes, a paring knife or vegetable knife is most essential requirement. Grater or zester will be necessary for grating cheese or preparing lemon peel zest. Use the kitchen shears to shape up the shrimps, herbs etc. A bunch of toothpicks might be required for securing the garnishes on the martini glass.
Exotic Garnishing Ideas for Shrimp Martini
Shrimp and Lemon Garnish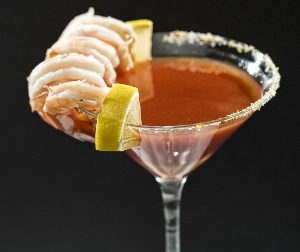 To garnish the shrimp martini, place 5-6 shrimps on the glass rim. Add lemon wedges or slices in between or on extreme sides. You can also pierce the shrimps and lemon slices in a toothpick and place the toothpick in the martini glass. Alternately, drop the shrimps and lemon slices to float on the martini. To add a stronger lemony flavor, add few drops of fresh lemon juice into the drink, before serving.
Shrimp and Avocado Garnish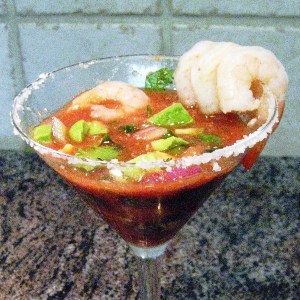 With a sharp paring knife, cut the pitted and peeled avocado in cubes. Mix with shrimps and add to the martini. Crumble tortilla chips on top. Add lime juice, and combine the mixture thoroughly. Alternately, skew the avocado pieces and shrimps in a stirrer and place it on the drink for garnishing purpose.
Shrimp and Cilantro Garnish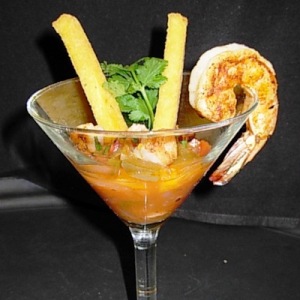 A fresh sprig of cilantro is just ideal to give a complete touch to the shrimp martini. Place the cilantro sprig just beside the shrimps or secure it in a toothpick with few shrimps. You can also chop the cilantro and sprinkle on the martini. You can make the drink more extra-ordinary by placing couple of polenta fries or finger chips inside the drink.
Useful Garnishing Tips for Shrimp Martini
Always use fresh and cooked shrimps for preparing the martini. Remember to devein the shrimps properly, before using.
Place the shrimps in refrigerator to chill, before using as garnish.
Use ripe and firm avocado for the best garnishing result. Peel off the skin and remove the seed before chopping off. Dip the avocado cubes in lemon water to retain the freshness.
Wash the cilantro sprigs thoroughly in cold running water and then gently pat dry in paper towels.
On top of these choices, you can also use olives, cherry tomato, pearl onion, Meyer lemon, tangerine etc for preparing the garnishes.
All these garnishing ideas and tips are just sufficient to make you inspired for serving shrimp martini in your next occasion. However, make sure to prepare in ample quantity as these are going to get finished within moments of serving.
Image Credit: stephscafe.blogspot.com, garrettkern.com, foodmuses.wordpress.com, vibrantrioja.com
Shrimp Martini Garnishing Tips