Blackberry Martini Garnishing Tips
14 Oct 2011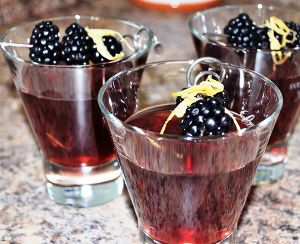 The blackberry martini is quite famous for its sweet but strong flavor. You can garnish this drink with different types of fruity or herb garnishing ideas. Here are few fabulous garnishing ideas, which I am going to share with you.
To prepare these garnishes, you should keep handy certain regular kitchen tools. A sharp paring knife and a vegetable peeler are most essential equipments. Depending upon the type of garnish, you may require grater, zester, melon baller etc. A bunch of decorative stirrers is also essential for securing the garnish in the beverage.
Fabulous Garnishing Ideas for Blackberry Martini
Blackberry Garnish
A fresh bunch of blackberries is most popular choice of garnish for the blackberry martini drink. There are several ways, by which you can use the blackberries to garnish. Drop the blackberries into the drink or pierce through a stirrer to place in the glass, or attach a blackberry on the glass rim through a fine slit. All these ideas are going to give a perfect look to the martini drink.
Mint Garnish
A fresh sprig of mint is also suitable for the blackberry martini. Attach the mint sprig in a stirrer along with a blackberry or you can float few mint leaves on the drink. For stronger mint flavor, sprinkle chopped mint leaves over the martini.
Orange Garnish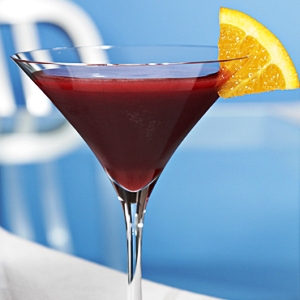 Orange can be cut in various ways to prepare exotic-looking orange garnishes. Use orange wheels, orange wedges, orange slices, orange half-moons etc to place on the glass rim. Remember to discard the seeds, before using as garnish.
Cherry Garnish
Pierce few cherries in a stirrer and place the stirrer inside the blackberry martini to garnish. Alternately, make a slit on the surface and attach on the glass rim. For easy and quick garnishing, just drop few cherries inside the drink and serve.
Lemon Garnish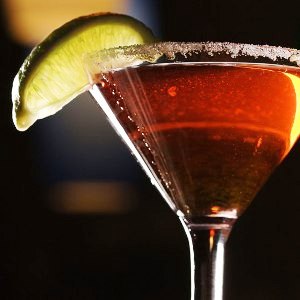 Lemon is a favorite choice of garnish for various types of martinis. There is various lemon garnishing ideas like lemon wedge, lemon slice, lemon spiral, lemon peel twist etc, which you can use here as well. To enjoy a strong lemony flavor, squeeze few drops of fresh lemon juice into the martini.
Important Garnishing Tips for Blackberry Martini
Use fresh and firm blackberries for garnishing purpose. Select the blackberries, which are large and perfectly ripened. You can use raspberries and strawberries, in combination with the blackberries or as substitute.
Select fresh mint sprigs to use for garnishing purpose. Wash the sprig thoroughly and pat dry in paper towels before using. Substitute mint with other herbs like basil, rosemary etc , according to your preference.
While preparing the lemon garnishes, handle the lemon carefully, to prevent the garnish from getting bitter or strong.
Do not prepare these garnishes in advance, as these will lose the flavor and freshness. Also placing the garnishes beside heat or wind is also not recommended.
Follow these easy garnishing ideas and tips to serve the blackberry martini at your next cocktail event and enjoy loads of appreciation.
Image Credit: jdeq.typepad.com, alcademics.com, pizzamatteo.com, cocktailart.tumblr.com, twolimesplease.blogspot.com, brandyrussum.com 
Blackberry Martini Garnishing Tips