Bacon Martini Garnishing Tips
4 Oct 2011
Bacon martini is one of those quirky martini drink that no bacon addict would ever want to give a miss. While serving this martini, you must add some interesting garnishes to make the drink more special and exquisite to your bacon-loving friends. Please find the following interesting garnishing ideas to decorate the glass of bacon martini, before serving.
To decorate this martini you will need certain common kitchen tools like paring knife, grater etc. A bunch of toothpicks or stirrers will be essential, if you want to make the decoration little exquisite.
Exotic Garnishing Ideas for Bacon Martini
Candied Bacon Garnish
A crispy and crunchy bacon is the most commonly used garnish for this martini. Cook the bacon according to the packet direction and soak excess fat in paper towels. Place the cooked bacon on the martini glass rim or inside the drink. To prepare candied bacon, sprinkle sugar and roast the bacon in hot oven. Use the candied bacon to garnish the martini, in the same way.
Olive Garnish
Bacon or cheese stuffed olives are also suitable choices of garnishes for the bacon martini. Use a stirrer to skew several olives and place on the martini glass. You can also drop couple of stuffed olives into the drink.
Chocolate Garnish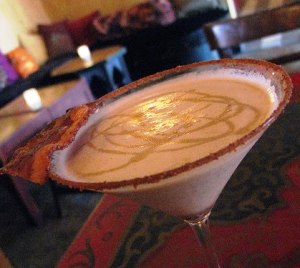 Chocolate is an ideal garnishing idea, when you serve chocolate bacon martini. Use shredded chocolate to sprinkle on the drink or place a chocolate stick or chocolate bar inside the martini. Dip the glass rim in shredded chocolate before pouring the drink. This martini can also be served with the normal bacon garnishing.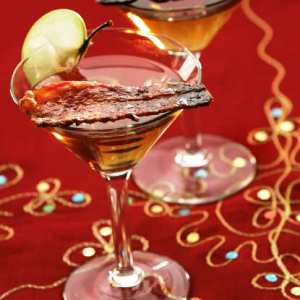 With a paring knife, make thin slices of apple along the width or length. Discard the seeds and the core area from the slices. Make a slit on the edge and place on the glass rim along with the usual bacon garnish. You can also cut the apple in cubes and prick through a stirrer by adding a bacon slice. Place this stirrer inside the drink to garnish the drink.
Handy Tips for Bacon Martini Garnishing
Follow the cooking instruction properly to prepare the bacon for garnishing.
Place the chocolate garnish in refrigerator, until it is time to serve.
Buy a jar of stuffed olives from your local grocery store. However, if you want, you can prepare them in advance.
Brush the apple garnishes with lemon water to prevent the discoloration.
With these garnishing ideas and tips, I am sure the next time you arrange a cocktail party, your exotic martini garnishes would surely be able to get enough "oohs and aahs" to last a long time.
Image Credit: funfeasts.com, foodwhirl.com, lifeafterramen.blogspot.com, loveelizabethany.com, loveelizabethany.com 
Bacon Martini Garnishing Tips