Banana Carving Ideas
29 Sep 2011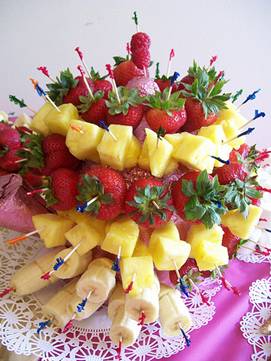 Attractively carving a banana can make even the die hard Banana-hater enjoy the healthy fruit! Moreover, since bananas are soft, they can be easily carved. You can make designs like birds, flowers, fish, or whatever else that you like. They can even be carved with their peels. The protective layer helps in keeping the fruit fresh. Here are a few tips on how to accomplish this project without turning your piece of art into a bowlful of mash...
Things Needed for Craving Banana
Carving knife
Bananas
Simple Banana Carving Ideas
A good knife is a must for carving bananas. It is best if you have a Thai carving knife, or hand paring knife for this task. Knives with bronze blades are the most suitable ones. Whichever knife you use, sharpen them before beginning to carve. Dull blades may slip and result in an injury. If you want flower shaped banana centerpieces, use a cookie cutter for a quick and easy job.
Do not use overripe bananas for this purpose. Brown ones are overripe and soft, while those with yellow skin are firm and fresh. Soft bananas will fall apart upon carving. So, pick up fresh bananas for carving.
Carve a banana centerpiece. Slice the fruit into bite-sized pieces. Line the pieces along a plate. Insert one toothpick in each banana slice. Take a strawberry and cut it into thick stripes. Carve out strawberry hearts using a cookie cutter. Add a strawberry heart, a grape and a blueberry on the toothpick over the banana piece. End by adding a banana heart on top.
You may make a banana octopus by removing the banana peel half way only. Cut half part of the banana. The peel is cut into eight tentacles. Black pepper seeds are added as eyes with the use of toothpicks.
You may even use other fruit for decorating your carving. Use toothpicks to attach these pieces to the banana. Blueberries can be used to make eyes, cherries make good noses and pineapple strips can be used to make hair. Let your imagination work at its best.
For more information and ideas on carving bananas, refer to the video on banana carving.
Tips For Carving Banana
Knives with steel blades result in discoloration of any fruit. Hence, prefer sharp plastic ones. 
If you add some drops of lemon juice to the craved fruit, it will remain fresh for a longer period of time.
Always carve the bananas just before serving. 
Select just ripe, firm bananas for carving, lest you would end up with a mushy mash. 

 
These banana carving ideas are easy and great fun. Use these centerpieces to decorate dishes during a Sunday brunch or dinner and receive countless comments for your creative food art.  
Image credits : funny-wedding-ideas.com
Banana Carving Ideas