Tips To Decorate Strawberry Cupcakes
29 Sep 2011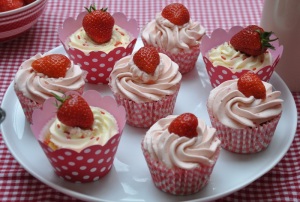 An interesting frosting can always double the the scrumptiousness of the pink and fresh strawberry cupcakes - a perfect springtime dessert. Follow these simple tips to decorate strawberry cupcakes that will give your cupcakes a lovely new look and add pizzazz to ur party... 
Things Needed for Decorating Strawberry Cupcakes
White frosting
Bowl
Spoon
Strawberries
Lemonade powder
Cutting board
Knife
Lemon slice candies
How to Decorate Strawberry Cupcakes
Strawberry Lemonade
This decoration is named as Strawberry Lemonade. The step-by-step procedure is mentioned below:
Take some lemonade drink powder and mix it required amount of plain white icing. The quantity of lemon drink powder to be used depends on how lemony you want your cupcakes to taste.
Now, take a strawberry cupcake and frost it using lemonade-flavored frosting. Level this layer of icing.
Take a candy lemon slice and place it over a cutting board. Cut it from the middle towards the rind. As soon as knife reaches the rind, do not cut further.
Now rotate the candy slice. Turn one of its halves towards the left and the other to the right. Place it in the middle of the strawberry cupcake.
Follow this process for the remaining cupcakes. Place the decorated cupcakes in a platter. Your strawberry cupcakes are ready to be served.
Just Strawberry
You can decorate strawberry cupcakes with whole strawberries or strawberry half on top of white frosting.
Tip for Decorating Strawberry Cupcakes
If you want to put some strawberry pieces on the top of your cupcakes, use fresh strawberries and add them immediately before serving. This will reduce the possibility of strawberry juice dripping over the icing.
You just learnt an easy garnishing trick to make your strawberry cupcakes look amazing. Try these tips for decorating strawberry cupcakes to turn your plain preparations to posh cupcakes. If you have some other ideas, you may share them here…
Image credits : lavendersugar.wordpress.com 
Tips To Decorate Strawberry Cupcakes