Tips To Decorate Carrot Cupcakes
29 Sep 2011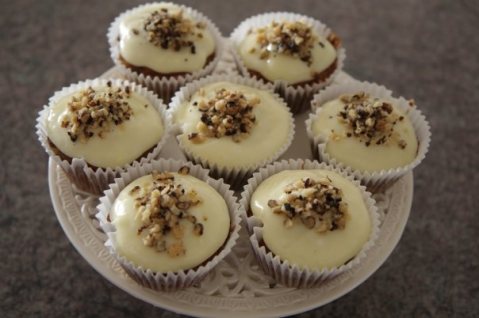 Carrot cupcakes are almost a must have menu item in weddings and parties, however, an unimpressive icing can ruin the beautifully sublime flavor and texture of this delicacy. Here are some simple yet innovative tips to decorate carrot cupcakes, which will ensure that you dont end up messing up with the party menu in any which way. Your guests will love to your homemade and decorated carrot cupcakes.
Things Needed for Decorating Carrot Cupcakes
Cream cheese frosting
Cream cheese
Lemon Juice
Vanilla extract
Sifted Icing sugar
Softened Butter
Walnuts for garnishing
How to Decorate Carrot Cupcakes
Follow the directions of a simple recipe to bake a bunch of carrot cupcakes.
Once they cool down, they are ready to be frosted. Remember never to hurry up at this stage, the right temperature is necessary for any decoration to look as intended. 
Place the cream cheese inside the fridge. Take it out right before you begin to decorate the cupcake.
Use an electric hand mixer to blend the butter. It will take about 1 minute to cream it to obtain fluffy and light textured butter.  
Add cream cheese, lemon juice, half the amount of total sifted icing sugar and vanilla extract to the butter.
Beat the mixture again until it becomes light and fluffy.
Then, mix it with the left over amount of icing sugar. Beat the mixture until sugar combines properly.  
The frosting is ready. Spread a dollop over the carrot cupcake. It you want to do it very neatly, you must use a use a piping bag to add the frosting on top of the cupcake.
Add a walnut halve and a carrot ribbon on top of the icing.
Last but not the least; add an 'eat me' tag to your elegantly decorated carrot cupcakes.
Your carrot cupcakes are ready to be served.
Serve these cupcakes at birthday parties or a tea party. Win your guests' heart with these lovely decorated cupcakes. Moreover, do not forget to boast about your creative tips for decorating carrot cupcakes. 
Image credits : adashofcinnamon.wordpress.com
Tips To Decorate Carrot Cupcakes