Fish Martini Garnishing Tips
28 Sep 2011
A fish martini does not include anything related to fish; rather it is a combination of vodka, cranberry juice, lime juice, and triple sec. The extreme sweet taste of this drink can be compared to the popular Swedish fish candy, which might be the reason behind such name. In fact, Swedish fish candy is the most popular garnish for this martini. However, there are other ways to garnish this special martini drink, which I am going to describe here. You can easily try them at home, by spending a couple of minutes.
Other than the readymade garnishing ideas, the fruity garnishes are quite common. To prepare some of these garnishes, you will require certain kitchen tools like paring knife, vegetable peeler, zester etc. Keep a bunch of stirrers handy for securing the garnish on top of the drink.
Easy Fish Martini Garnishing Ideas
Berry Garnish
Since cranberry juice is a major ingredient for preparing the fish martini, you can use a  berry to garnish the drink, depending upon its availability. You can make various strawberry garnishes  for this purpose. To make a variation, pierce each type of a berry in a stirrer like strawberry, blueberry, cranberry etc and place inside the drink.
Blood Orange Garnish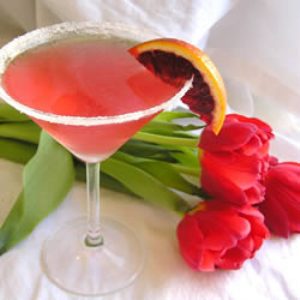 A blood orange garnish is also another way to garnish this fabulous martini drink. You can cut the blood orange in similar style like the usual orange garnishes. For extra flavor of blood orange, add few drops of fresh blood orange juice. Instead of blood orange, you can use usual orange garnishes too.
Swedish Fish Garnish
A Swedish fish candy is the best choice of garnish for fish martini. These fish candies are available in the supermarkets. Simply place the fish candy inside the martini or pierce on top of a stirrer to place inside the martini glass. You can also attach the fish candy on the glass rim, by making a slit on it. Use multiple colored fish candies, to bring a dazzling appearance of the drink.
Useful Tips for Fish Martini Garnishing 
When you use berry garnishes, collect fresh and firm berries of your choice. An assortment of different types of berries makes a beautiful garnish for the drink.
Prepare the berry garnishes and place inside refrigerator to chill or freeze. This will enhance the flavor of the garnish, as well as the drink.
Lime is a common choice of garnish for almost any drink. If you cannot arrange any type of fruits for cutting the garnish, use lime garnish. Different types of lime garnishing ideas will make the fish martini, truly flavorful.
It is now  time to experiment with the ideas and tips on fish martini garnishing. Try at home and share your comments here.
Image Credit: thedrivencook.com , chocolatemoussescoop.blogspot.com , hopkinsicooking.blogspot.com , thesweetesttemptations.blogspot.com 
Fish Martini Garnishing Tips