Rum Martini Garnishing Tips
26 Sep 2011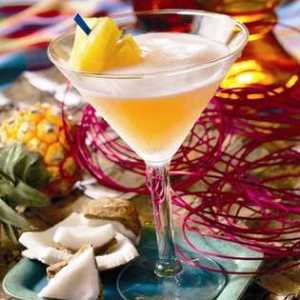 The garnishing for rum martini mostly depends on the type of ingredients you are using in the drink. Other than using rum, you can add different fruity liqueurs, chocolate liqueurs, sugary liqueurs etc to make the drink more inviting. There are several options for garnishing this fabulous drink, from which I am going to share certain exotic garnishing ideas.
You might require certain kitchen tools for preparing these fruity garnishes, like sharp paring knife, vegetable peeler, grater, zester etc. Alternately, you can pierce the whole fruit garnish into a stirrer and place in the martini drink for garnishing purpose.
Easy Rum Martini Garnishing Ideas
Cherry Garnish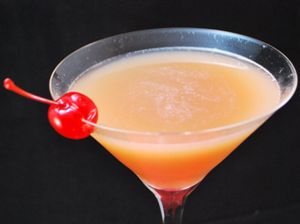 A cherry can be the perfect garnish for a rum martini prepared by adding orange juice and cranberry juice. To garnish with the cherry, place it on the glass rim by making a small slit. To make it more gorgeous, pierce couple of cherries in a stirrer and place the stirrer inside the drink. There are various ways of cherry garnishing methods, which will add a special touch to the martini.
Cinnamon Garnish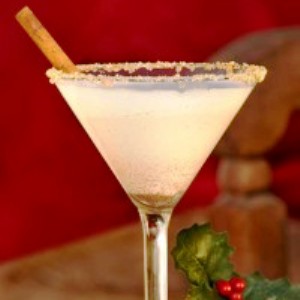 Place a long cinnamon stick inside the drink, just as a stirrer. The cinnamon is a right choice of garnish, when you add spiced rum to shake up the martini. Soak the cinnamon stick into the liquor for some time to infuse the flavor, before you serve the drink. Instead of cinnamon stick, you can also sprinkle cinnamon powder on top of the drink and serve, immediately.
Flower Garnish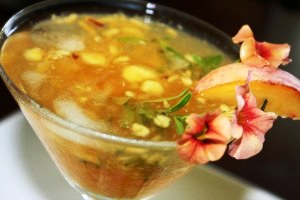 Flower can decorate anything and everything. To give a more dramatic appearance to the martini glasses, you can place edible orchid flowers as garnish. Use toothpick or stirrer, to prick the flowers at the bottom and place on the drink. You can also let the flowers float on the rum martini drink. The purple or pink colored edible orchid flowers are right choice for this purpose.
Useful Rum Martini Garnishing Tips
When you select the garnishing ingredient, always confirm that the garnish is going to suit perfectly with the drink. A perfect garnish can enhance the pleasure of sipping a delicate martini, whereas a wrongly chosen garnish can destroy the mood of the evening.
The freshly prepared garnishes add more flavor to the drink than the previously prepared ones. These garnishes also make the martini drink look fresh and attractive. Make it a point, to use fresh garnishes always.
Dip your garnishes in lemon water or brush lemon water on the garnish, so that the bright color remains intact.
While using flower garnishes, confirm from the florist whether these are edible or not.
I think, all these garnishing ideas and tips are going to be quite useful, for you to arrange the next cocktail party at your home. Apply these excellent ideas on garnishing rum martini drink and let us know, how it turned out!
Image Credit: kristyrodman.blogspot.com, savoryreviews.com, martini-mandy.blogspot.com, jsprat.wordpress.com 
Rum Martini Garnishing Tips