Pumpkin Carving Ideas
25 Sep 2011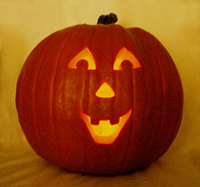 Can you imagine Halloween without carved pumpkins? All of us love to see monstrous "Jack-O-Lanterns" dispersed all around the neighborhoods during Halloween. Therefore, pumpkin carving has become a staple tradition associated with this holiday. A traditional Halloween is certainly incomplete without a carved pumpkin. So, let us learn how to to do it.
Those who are artistically inclined get a chance to show off their carving skills, while those who never tried pumpkin carving, will learn how to do so quite easily. Here are some easy-to-follow steps to make the job simple.
Things Needed for Carving Pumpkins 
Sharp knife
Scooper/Spoon
Felt pen
Simple Carving Ideas
First, select a fresh pumpkin. Cut, in a circle, around the stem at the top leaving about 4 inches in diameter around the stem. Take the lid off and using a scooper/spoon, scoop out all seeds and the mushy part from the pumpkin. Retain the top and set aside.

 
Take a felt pen and draw your desired design on the pumpkin. Now, cut along the outline that you have drawn. Pop out the little caved pieces.

 
Before covering the pumpkin with the lid, light a candle and place inside the hollow pumpkin. Then, cover the bottom of the pumpkin lid with a sheet of aluminum foil to prevent it from burning before placing it back on top of the pumpkin.

 
The designs may vary quite a bit. You may carve a scary-faced pumpkin, a smiling pumpkin or even an angry pumpkin. You could carve letters, faces, animals...the possibilities are endless! It really just depends on how much work you want to put into carving your pumpkin and/or how skillfuly you are at carving one.

 
The carved pumpkins will stay unspoilt for about two weeks.

 
You also get ready-to-make pumpkin kits, which give you step-by-step instructions as well as some designing ideas.

 
For more ideas on carving a pumpkin, refer to the video on "how to carve a Halloween pumpkin".
Whether you are using the traditional method or a pre-designed one,  carving pumpkins is easy and fun. Wishing you a happy pumpkin carving this holiday season!
Image credits : insidesocal.com
Pumpkin Carving Ideas