Prime Rib Roast Carving Ideas
25 Sep 2011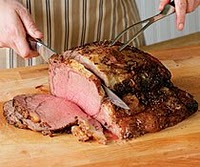 Do you want to serve flawlessly roasted prime rib roast for dinner? Roasting the rib is just half the job done. You must know the right prime rib carving technique before you serve it on the table. Prime rib roast carving is not a difficult task. All it requires is a practice of the technique that helps you to carve all the roast slices faultlessly. 
Tools Needed for Carving Prime Rib Roast
Long and sharp knife
Meat fork
Cutting board
Serving platter
Ideas for  Carving Simple Prime Rib Roast
Cook the prime rib roast. Tranfer it to a cutting board for carving. Remove the chine before You begin to carve. For those who are not aware, let me tell you that the chine is the bulky bone attached at the end of the roast. 
The other end of the prime rib roast must be sliced evenly across. The prime rib roast will have a flat end to rest in a balanced state over a plate. It should be shifted into a plate to rest, with its cut side down.
If you are right-handed, the platter must be turned so that the rib bones face towrards your left side and vice-versa.  
Slice it further by cutting parallel to the initial bone. A slice is made on the inner part of the bone. The roast may move hither and thither while slicing. Hold it with a meat fork to avoid movement.
The next cut is made on the outer part of the subsequent bone. You will now have prime rib roast with just a single bone for each  serving.
The remaining slices must be sliced from the outer part of the subsequent bone. Make sure that you work parallel to the initial bone all the time.
Tips for Carving Prime Rib Roasts
It will be easier for you to carve prime rib roasts, if you get the chine eliminated from the butcher's shop.
Try out prime rib roast carving at home to enjoy perfectly roasted and carved prime rib steaks with family and friends!
Image credits : greggsgrocerygazette.blogspot.com
Prime Rib Roast Carving Ideas