Potato Carving Ideas
25 Sep 2011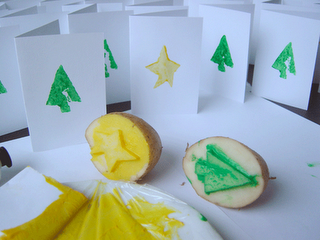 You must have used potato carvings to decorate plain-looking dishes or salad platters, so far. But, have you ever thought of carving potatoes to make prints? This article comes up with the innovative craft idea that your kids will surely love and enjoy. Making such stamps is  easy  but would certainly demand adult assistance.
Now, this is something interesting! I am sure you would agree as you read on…
Things Needed for Potato Carving
Potatoes
Knife
Paper
Colored markers
Pair of Scissors
Simple Potato Carving Ideas
Cut the potato in two equal halves using a knife.
Give your child a paper and marker, directing him to draw any shape of his choice on the paper. It may be a star, diamond, heart, or any other shape. Let the child know that the shape must be slightly smaller than the actual size of the potato.  
The shape must then be cut out cleanly using a pair of safety scissors.
The cut out shape is then placed on the flat surface of the potato half. It is traced using a marker and cut down with a knife. Begin cutting from the edge for removing the border. You will be left with the desired center shape. Now, the child can use the potato stamp wherever he wants to. The stamp is dipped in paint and pressed on a sheet of paper to get the imprint.
You may repeat the process to make other unique potato stamps.
For more clarity on how to carve potato stamps, refer to the video on "how to make potato stamps".
I hope you will now be able to keep children busy with this amazing potato carving artwork during their vacations. Post in your comments to let me know how much your child enjoyed it.
Image credits : subbacultcha-blog.blogspot.com
Potato Carving Ideas