Mango Martini Garnishing Tips
22 Sep 2011
Are you interested to learn about mango martini garnishing? In this blog, I am going to present an array of exotic garnishing ideas for this favorite tropical martini drink. Read on, to know about these.
To prepare these easy and exotic martini garnishes, you will require some common kitchen tools like paring knife, peeler, zester, stirrers etc.
Exotic Mango Martini Garnishing Ideas
Mango Slice Garnish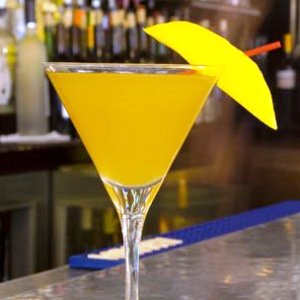 With a sharp paring knife, cut thin wedges or slices from the mango. Place a mango slice or wedge inside the martini. To bring variety, you can cut mango in various shapes like cubes, strips, balls etc. You should use a melon baller to prepare the mango balls. Secure the mango cubes or balls in a stirrer and place it in the drink.
Lime Slice Garnish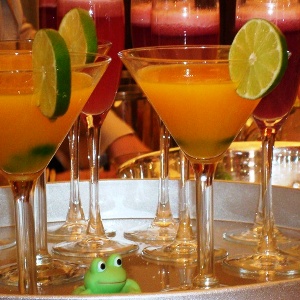 Lime slice is perhaps the most versatile garnish, which suits almost every type of martini. Cut a thin slice of lime widthwise. Discard the seeds and make a slit on the edge to attach it to the glass rim. You can also learn different types of lime garnishing ways and use them to garnish your mango martini.
Cherry Garnish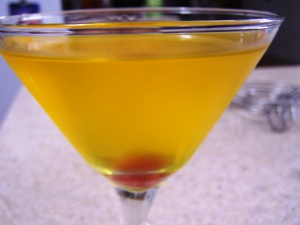 Cherry garnish is a perfect contrast for the mango martini drink. Place a whole cherry on the glass rim or inside the drink or pierce it through a stirrer. You can also combine other fruity garnishes with the cherry for decorating the drink.
Strawberry Garish
Strawberry can be used in various ways to prepare the beautiful strawberry garnishing ideas. For simple and fast garnishing, place a whole strawberry on the rim of the martini glass. Alternately, pierce through a toothpick or stirrer and place it inside the drink. A floating strawberry will also be a nice way to decorate the mango martini drink.
Star Fruit Garnish
Star fruit is another favorite choice of garnish for mango martini. With a sharp knife, make thin, crosswise slice of the star fruit. Place the star fruit garnish on the glass rim or skew it into the stirrer for a dramatic appearance.
Mint Garnish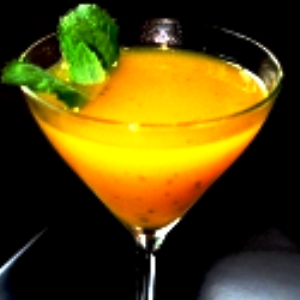 A fresh mint sprig or few fresh mint leaves can be placed in the mango martini. If you want a stronger flavor of mint leaves, then use chopped fresh mint and sprinkle them over the drink.
Orange Garnish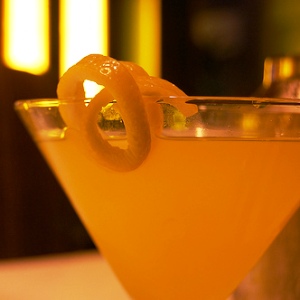 You can use any type of orange garnishing ideas to garnish the mango martini. For extra flavor, you can add some freshly squeezed orange juice into the drink too. Use a sharp knife to cut the orange into thin slices and vegetable peeler, to prepare the orange peel twist.
Important Mango Martini Garnishing Tips
Use fresh, ripe, and firm mango, to prepare the garnish. For best result, chill the mango inside refrigerator, before cutting the garnish.
If you want to store the mango garnish, then place it inside freezer. The frozen mango garnish makes the martini more attractive in taste and appearance, both.
For other fruity garnishes, you should always select fresh fruits. Dip the prepared garnish in lemon water for few seconds to retain the bright and gorgeous natural color of the fruit.
Never keep the prepared garnishes, in hot or windy environments, as they tend to get dried pretty soon.
Ensure the sharpness of the kitchen tools for thin and neat looking garnish.
Now you know almost everything on mango martini. Next time, you plan to serve this tropical martini drink to your guests, follow these ideas and tips to make it a successful endeavor.
Image Credit: schmancy.blogspot.com, drewashleyporter.blogspot.com, nisalee.webs.com, yummy4tummy.wordpress.com, students.philau.edu, nowayjosemx.com, seattledining.com, ifood.tv
Mango Martini Garnishing Tips