Cucumber Carving Ideas
2 Sep 2011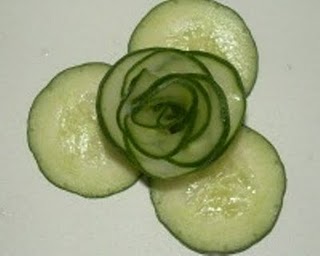 Cucumber garnishes make any dish or dinner party exceptional by adding a spunky color and a unique flair to centerpieces, trays as well as dinner plates. Cucumber carving is done to carve out flowers like tulips, roses, and chrsanthemums. Flower-themed cucumber garnishes can ideally be served as appetizers or purely decorative pieces. When added to an otherwise plain-looking dish, carved cucumbers tend to jazz it up. The method seems easy once you apply the right carving technique. Just a few right flicks using a paring knife and you will have perfectly carved cucumber flowers by your side.
Things Needed for Cucumber Carving
Vegetable peeler
Fresh cucumber
Knife
Cutting board
Simple Cucumber Carving Ideas
Not as difficult a feat as it sounds; carving cucumbers carrot to make edible or decorative flowers is actually very easy and can be done at home in very less time too. Besides garnishing dishes, cucumber flowers can also be used as a part of vegetable salads. Here's how to carve cucumber flowers.
1. Take a cucumber. Wash and dry it properly.
2. Peel the cucumber's outer skin and cut its edges.
3. Place the cucumber on a cutting board such that the vegetable's wider part faces you.
4. Without cutting the whole cucumber, make a V-like slice on the carrot towards you with a knife.
5. Turn the knife a quarter from where you made the first slice and make a similar V-like shape.
6. Keep repeating this till you have made V-shaped slices on almost every side of the vegetable.
7. Hold the narrow tip of the cucumber and twist and turn the cucumber slightly. A spiraling flower shaped cucumber flower is ready.
This is a wonderful cucumber carving method. These cucumber flowers can be used foe garnishing. For more clarity on making cucumber flowers, refer to the video on "how to make cucumber flowers". Other creative ideas for carving cucumbers can also be shared here. Comments awaited!
Image credits : carvingfruitintoediblearrangements.blogspot.com
Cucumber Carving Ideas