Pumpkin Martini Garnishing Tips
26 Aug 2011
Pumpkin martini – is the most popular drink for celebrating Halloween. Without the pumpkin martini drink, your Halloween party arrangement will remain incomplete. You can garnish this drink in several interesting ways, by using your power of imagination. Here I am going to describe some of the simplest but unique ideas to garnish the pumpkin martini.
However, before going to that, I should tell about the essential kitchen tools for preparing the garnish. Some of the most important tools are vegetable knife, sharp paring knife, grater, vegetable peeler, zester etc. Keep handy a bunch of stirrers or toothpicks for securing the garnish on the drink.
Interesting Ideas on Garnishing Pumpkin Martini
Cherry Garnish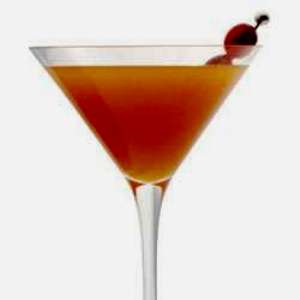 The most versatile garnish for all types of cocktail is cherry. You can use one or multiple cherries to garnish the pumpkin martini drink. Pierce the cherries in a stirrer or toothpick to place inside the glass. You can also place a cherry to float on the drink.
Pumpkin Pie Spice Garnish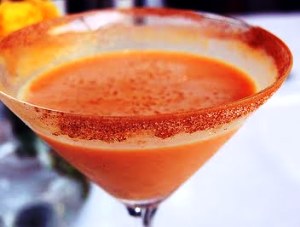 The pumpkin pie spice is a common ingredient, required for various Halloween specialties. You can use this powder, to sprinkle on the pumpkin martini, just before serving the drink.
Pumpkin Puree Garnish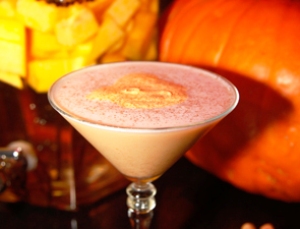 The pumpkin puree can be prepared in a food processor, by placing fresh pumpkin pulp, whipped cream, and sugar. Season the processed puree with nutmeg, cinnamon powder, black pepper, and salt. Nicely place the puree over the drink and if possible, make some exciting pattern with it.                                                                                      
Candy Corn Garnish
The candy corns are available in the market in various shapes and sizes. You can use these corns to spread in the pumpkin martini drink, while serving.
Cinnamon Stick Garnish
Cinnamon stick is also another choice of garnish for pumpkin martini. Use a long cinnamon stick to place into or float over the drink. Additionally, you can sprinkle grated nutmeg powder on top, to make the drink spicier.
Pumpkin Seed Garnish
Toasted pumpkin seeds are just perfect garnish for the pumpkin martini drink. Simply float few seeds on the drink. You can also grind the toasted pumpkin seeds in a grinder and use the powder to sprinkle on the drink.
Pumpkin Martini Garnishing Tips
When you use any fruit or vegetable garnish for the pumpkin martini, try to prepare them fresh for best result.
In case you want to prepare in advance, then store the garnish in an airtight container inside the refrigerator.
Use fresh and sealed spices for enjoying maximum flavor in your drink.
You can also use fresh whipped cream, orange garnishes or lemon garnishes to garnish your pumpkin martini.
To celebrate the Halloween party with right mood, use creepy or weird looking candies to garnish the drink.
Now you know - how to serve the best pumpkin martini to your guests in the next Halloween party. You can also use your imagination to make the drink more authentic and unique for the celebration.
Image Credit: cheekscelebrations.blogspot.com, barnonedrinks.com, meadowbreezefarmmarket.blogspot.com, travelsintaste.com, scaredy-cat.com, hinkenhook.blogspot.com, flickr.com
Pumpkin Martini Garnishing Tips