Ham Carving Ideas
25 Aug 2011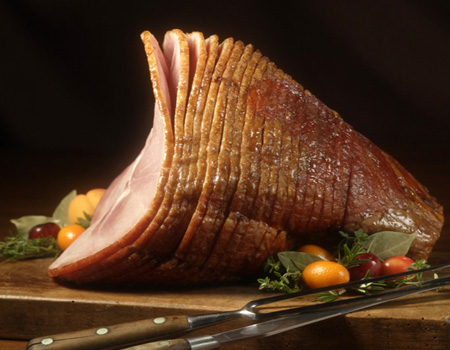 A freshly prepared honey-glazed ham is immensely juicy and tender. This article has a few ham carving ideas that will allow you to keep the meat tender. Craving ham is not easy, but a little guidance and practice can help you do it with perfection. Read on for tips on carving ham which ensure that the texture remains intact.
Tools Needed for Carving Ham
For carving ham, you will need three basic tools:
A carving knife
A meat fork
A cutting board
Simple Ham Carving Ideas
After you roast or cook the ham, allow it to stand for about 10-15 minutes. The natural juices present in the meat will spread evenly during this period of time. This will make the glaze, be it brown sugar glaze or simple honey glaze, crisp as soon as the sugar cools.
Trim the ham in order to cut it finely. Place the ham on top of the cutting board and cut three slices which must be parallel to the length of the ham. Cut these slices from the thin portion of the ham.  
Turn the ham and rest it on the flat side that you created by trimming the slices.
Begin carving the ham from the shank end and move down towards the bone. Every slice of the meat that you cut must be as identical as possible. The slices that are usually served at different eating joints range from 1/3 inch to 1/2 inch in thickness. If the slices are thicker than this, the dish that you serve is typically called "ham steaks."
Release the ham slices by cutting them parallel all along the bone. When you carve ham in this manner, you will definitely get a piece of ham which is properly sliced. You can watch a video to see "how to carve a ham" to get a fair idea.
Now, rotate the ham and again follow these steps for carving ham until you are able to remove a slice from the bone.
There are many other ham carving ideas, but this method is easy to follow and retains the tenderness and succulent texture of ham. Enjoy the mouth-watering ham slices. You can also make spiral cut hams. For more information on this, refer to the article on "how to make spiral-cut hams".
Image credits : 365foods.wordpress.com
Ham Carving Ideas