Olive Martini Garnishing Tips
24 Aug 2011
Pickled olive is the most popular choice of garnish for the olive martini or dirty martini. However, there are several other ways to garnish your  martini drink too. Here we are going to suggest  some  unique and fabulous garnishing tips, which  can easily be used for your next cocktail party.
Before going into details, you should keep  certain common kitchen tools handy as they will be required for preparing the garnishes. A sharp paring knife and a pair of scissors are the most useful items. You will also require a bunch of stirrers or toothpicks to secure the garnish on top of the drink.
Fabulous Olive Martini Garnishing Ideas
Cherry Garnish
Cherry is the most common garnish for almost every type of martini. You can safely use a single or couple of fresh cherries to float on the drink. Alternately, pierce the cherries with a stirrer and place into the glass. You can also attach the cherry on the glass rim, by making a slit on its surface.
Cheese-stuffed Olive As Garnish
Cheese stuffed olives are a favorite choice of garnish, particularly for the olive martini. You can buy readymade bottle of cheese-stuffed olives or can prepare at home. To prepare at home, use pickled and pitted olives. Crumble your favorite cheese and fill the olives. Skew these olives carefully in a stirrer and place inside the martini glass or directly put into the drink.
Garnish of Lemon Twist 
With a paring knife, peel off the lemon skin in a spiral pattern, starting from the top side. Use the spiral shaped lemon peel to place over the rim of the martini glass or to put inside the olive martini drink. In fact, you can also use other lemon garnishing ideas in this purpose.
Pickle As Garnish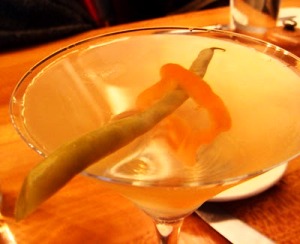 A pickle garnish is a very special type of garnish for olive martini. You will find this garnishing in various gourmet bars and restaurants. Use your choice of pickle to place inside the drink. For uniqueness, add little creativity to make some pattern with the pickles.
Salami Garnish
A piece of salami is also a popular non-vegetarian choice of garnish for olive martini. Pierce pickled olive, salami, cheese cube etc in a stirrer and place that inside the martini glass.
 Garnish With Garlic & Tomato
The garlic and tomato garnish is another brilliant way to deck up the glass of olive martini. Use large-sized garlic cloves and cherry tomatoes to pierce in a stirrer. Place the stirrer inside the martini glass and pour in the drink to serve.
Useful Olive Martini Garnishing Tips
Using fresh garnish enhances the taste and flavor of the drink and also makes it look most attractive. Therefore, always prepare the garnishes just before serving the drink to your guests.
While using fresh fruits like cherry, tomato, lemon etc, always wash these in cold water and pat dry with paper towel, before you prepare the garnish.
Never place the fresh garnishes beside the oven or fan, as these will lose the freshness.
For pickled garnishes, use branded pickle bottles. You can also prepare your choice of pickles at home, if you know the tricks.
Learn about the choice of your guests and add the garnish accordingly while serving the drink.
Now you have learnt about lots of interesting ideas and tips on garnishing olive martini. Next time you plan to serve olive martini, use these gorgeous garnishing ideas and win lots of acclaim.
Image Credit: watchplayread.com , pickonus.com , morepleasebymargie.blogspot.com , killingtime.com , pumpkinandspice.blogspot.com , bottlegang.blogspot.com , rosmarcouture.com 
Olive Martini Garnishing Tips