Lebanese Salad Dressing Ideas
11 Aug 2011
We bring you a whole slew of sumptuous Lebanese salad dressing ideas that aren't just irresistible, but very satisfying too. Big time crowd-pleasers, these dressings are just perfect when you are looking to toss up something in less than an hour. These dressings not only add a sophisticated twist to your veggie and chicken salad or pastas for that matter, but also bring certain freshness to your daily fare. Try this dressing on your barbecues or grills for an added kick of flavor.
Top 10 Lebanese Salad Dressing Ideas
1. Pomegranate Yogurt Dressing
Ripe, red pearls of pomegranate teamed up with crunchy onions, and zesty cilantro gives this luscious dressing its ultimate kick.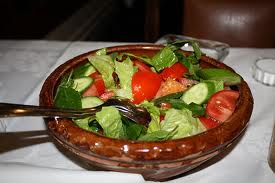 Made of sesame seed paste, the creamy, zesty tahini dressing melds well with couscous salad, and can double up as a marinade and dip too.
3. Garlic Yogurt Dressing
A touch of honey and a dash of dried oregano give this garlicky yogurt dressing its sweet-herby flavor.
4. Fava Bean Dressing
Creamy, smooth fava bean dressing prepared with steamed fava beans, virgin oil, garlic, oregano, chicken stock, and seasoning makes for a great topping for fettuccine or fish salad.
5. Yogurt Mint Salad Dressing
Garlic, lemon juice, and plenty of fresh mint leaf goes into the creamy yogurt dressing that just makes for a sumptuous addition to your salads.
6. Lemon Garlic Salad Dressing
This lip-smacking homemade salad combines the tart flavor of lemon with the zesty bite of garlic and brings a whole load of zing to your boring greens.
7. Buttermilk Dill Salad Dressing
Toss in your tender lettuce into this light, creamy, tangy buttermilk dressing that comes spiked with fresh dill and chives.
8. Basil Garlic Vinegar
Red wine vinegar blended with fresh basil and garlic makes for an irresistible dressing. Drizzle it on top of your favorite salad or 'fattoush'.
Dump the bottled dressing for this easy, sumptuous, homemade ranch dressing that goes well with nearly any salad you can think of.
Creamy, tangy, and flavorful, avocado vinaigrette adds zing to your supper fare and can be substituted as dips too.
Lebanese salad dressing ideas include an abundance of zesty, toothsome ingredients, sumptuous enough to dazzle up your fare like nothing else.
Image Credits: ifood.tv
Lebanese Salad Dressing Ideas