Seasoning For Meatloaf-How To Tips & Ideas
9 Aug 2011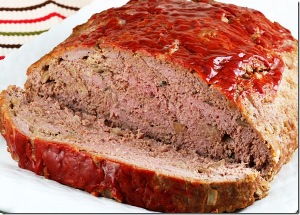 Meatloaf is one of my favorite comfort foods and I like to experiment with different types of seasoning for meatloaf to make it unique and delicious. You will find a whole lot of recipes for meatloaf seasoning mix, but I have selected some of my most favorite ones to share here. I hope, you will also like these easy and quick meatloaf seasoning ideas to try by yourself.
Easy Seasoning for Meatloaf
Simple Meatloaf Seasoning
If you want to keep the seasoning easy and simple, then this idea will suit your requirement. In a bowl, combine mustard powder, garlic powder, onion powder, paprika, black pepper, salt, dried thyme, and dried basil. Shake thoroughly and store this in an airtight pack or container in a cool, dry place. Mix the seasoning in tomato sauce and add to the meat to combine.
Ranch Meatloaf Seasoning
The ranch-style seasoning is very delicious and you can use this for almost any purpose. The ingredients are simple and easily available – onion powder, garlic powder, parsley flakes, and salt. Add sour cream to this mixture before combining with the meat. You can marinate the meat in this ranch-style seasoning before putting inside the oven.
Onion Meatloaf Seasoning
This is very easy but offers a great flavor and taste to the meatloaf. To prepare the seasoning you need to deep fry chopped onion in desired quantity. Adjust the quantity of onions as per your taste. Transfer the fried onions over paper towel to absorb extra oil. Crush the fried onions and add to the meatloaf along with little Worcestershire sauce and plenty of tomato puree.
Peppery Meatloaf Seasoning
Use fresh red bell pepper to prepare this peppery seasoning for meatloaf. Finely chop the red pepper and add with chopped onions, minced garlic, soy sauce, tomato sauce, salt, and ground black pepper. It is better to use this seasoning fresh than storing in refrigerator to use later. Combine the seasoning with minced meat and add other regular ingredients like egg, bread crumbs etc before you place inside the oven.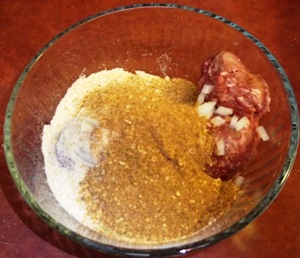 Indian Meatloaf Seasoning
You can add the flavor and taste of Indian culinary style by adding certain Indian spices and herbs in your meatloaf. Usually you should combine curry powder, cinnamon powder, garlic powder, onion powder, ginger powder, and salt. For extra crunchiness add raisins, and crushed peanuts. Combine these ingredients in a bowl and store into an airtight container. While preparing the meatloaf, sprinkle the seasoning mix in desired quantity over the meat and combine well.
These meatloaf seasoning ideas are simple, and at the same time, these are extremely delicious. So, try these seasoning for meatloaf ideas and present a flavorful and delectable meatloaf on any occasion.
Image Credit: weino2.blogspot.com, thedailysmash101.blogspot.com
Seasoning For Meatloaf-How To Tips & Ideas