Popular Mung Bean Dressing Ideas
2 Aug 2011
What's a great salad without a good dressing and every foodie worth his food knows how delectable mung bean dressing is. Rich, flavorful, and versatile, mung bean dressing spiced with herbs, spices and butter makes for totally sinful indulgence. Not only can it help to liven-up your salads, pasta, fish, chicken, and even meats, but also pump up a great appetite. Below presented is a list of  creative ideas on how to make mung bean dressing that will inspire you to come up with you own heavenly vinaigrettes.
Top 10 Mung Bean Dressing Ideas
1. Outrageous Dressing
Tahini, crunchy peanut butter, soy sauce, hot red pepper oil, cayenne pepper, sesame oil, ginger, garlic, scallions, and hot mustard goes into this fiery-hot outrageous dressing that just fires up your sprouted mung beans.
2. Tangy Cucumber Dressing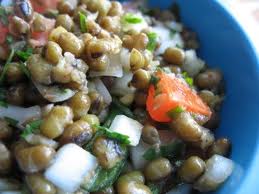 Apple cider vinegar, sour cream, sugar, salt, and chunks of cucumber — all stirred into a yummy, tangy dressing gives this dishy vinaigrette its tang.
3. Thai Dressing
Easily one of the best and the most exotic ways to dress up your mung bean sprouts, this dressing combines a whole slew of interesting ingredients like tamarind, seasoned rice wine vinegar, fish sauce, red chilies, palm sugar, and limejuice.
4. Creamy Teriyaki Dressing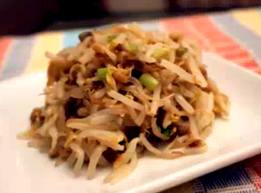 Clearly inspired by Asian cuisine, this creamy Teriyaki dressing whips up a velvety concoction using firm silken tofu, spicy miso teriyaki sauce, sambal oelek, grated ginger, lemon juice, and sesame oil.
Nothing could be more delectable to the palate than sprouted mung beans topped with creamy, spicy Tahini dressing that combines generous portions of Tahini, pepper, soy sauce, and lemon juice.
This sensational herb dressing makes for fantastic addition to your mung bean sprouts and leaves you with more than just a spiced up tongue.
7. Orange Dressing
Simple, hearty, and straightforward, the orange dressing combines cans of fresh orange juice, balsamic vinegar, olive oil, and cracked peppers. A sumptuous treat for your taste buds indeed!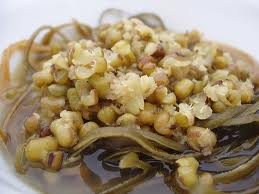 Add a spicy twist to your mung bean sprouts with the bright, zesty dressing that plays on the flavor of Dijon mustard, ground chipotle, mayonnaise, pepper, limejuice, and a dash of sugar.
9. Sesame Garlic Dressing
A simple yet flavorful dressing, sesame garlic dressing is not only easy to whip up, but makes for an excellent accompaniment for your mung bean delights.
10. Mustard Dressing
When looking to whip up this impromptu salad dressing, make sure you have Dijon mustard best of the best quality, for only good mustard can do justice to this mouth-watering dressing.
Rich and hearty, nearly all mung bean dressing features yummy ingredients that aren't just flattering to your palate, but also packs in a good amount of nutrition.
Image Credits: ifood.tv, connect.in.com, veggiebelly.com, vegeyum.wordpress.com
Popular Mung Bean Dressing Ideas