Seasoning For Pizza-How To Tips & Ideas
1 Aug 2011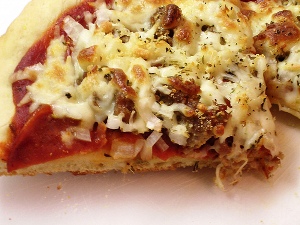 If you are planning to bake a fresh, aromatic pizza at your home; then you must learn about the seasoning for pizza. Using different types of pizza seasoning will make your pizzas more delicate and unique in taste each time you prepare them. You can buy these seasonings readymade, but the homemade one is always more authentic and tasty. So, go ahead to prepare any of these below-mentioned pizza seasonings and enjoy gourmet pizza at your dinner table with your friends and family members around.
Easy Pizza Seasoning Ideas
Simple Pizza Seasoning
Do you want to make it simple? Then keep these 5 ingredients ready and prepare this easy but delicious pizza seasoning for home baking. These simple items are - oregano, garlic, crushed red pepper, basil, and marjoram. Mix these in right proportion to season your pizza.
Authentic Pizza Seasoning
This is one of the most authentic pizza seasonings – containing different herbs and spices. The basic ingredients are – onion, red bell pepper, green bell pepper, fennel, oregano, garlic, basil, chives, parsley, thyme, marjoram, and celery. Prepare the seasoning in advance and store in an airtight container, so that you can use the seasoning, whenever required.
South Western Style Pizza Seasoning
If you want to make your pizza as hot as the South Western style, then you need to use different types of peppers. The most original South Western type pizza seasoning includes the following items - garlic, onion, sun-dried tomato, black pepper, cayenne pepper flakes, California chili, sea salt, basil, oregano, rosemary, and thyme.
Mediterranean Pizza Seasoning
The Mediterranean pizza seasoning offers a different flavor and taste due to some of the unique ingredients. You might have to search few stores to find out these ingredients, which are Turkish oregano leaf and powder, salt, sugar, cracked and ground Indian fennel seed, crushed red pepper, Tellicherry black pepper, garlic, white onion, sweet California basil, cayenne red pepper powder.
Lemon-Pepper Pizza Seasoning
Those, who are fond of lemon-pepper combination, can find this seasoning quite interesting. The ingredients are dried onion flakes, coarsely ground black pepper, garlic powder, thyme, fennel, paprika, oregano, basil, ginger powder, and dried lemon peel. Mix these ingredients in right proportion and enjoy a fresh lime flavor and tangy taste in your pizza.
Now you know quite a few pizza seasoning ideas, with which you can go ahead. To season your pizza, mix the seasoning with tomato sauce and spread on top of the pizza dough or sprinkle directly over the pizza. Adjust the quantity of the seasoning, as per your requirement and enjoy the experience of baking and eating a homemade pizza.
Image Credit: bakeitafterall.blogspot.com, nordicspice.eu
Seasoning For Pizza-How To Tips & Ideas