Popular Okra Dressing Ideas
31 Jul 2011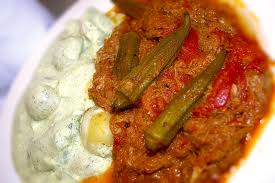 Enjoy the well-rounded flavor of okra with these inspiring okra dressing that is sure to get you drooling for some more. If the ho-hum around okra has you reaching out for the meat and fish, then here is an out-of-the-ordinary way to relish your lady's-finger. Just dress up these green 'gumbos' with some stunning ingredients and feed your family to a lip-smacking treat. Get on with the write-up for more ideas on how to make okra dressing.
Top 10 Okra Dressing Ideas
Cou-Cou Dressing
The hearty cou-cou dressing features milk, butter, onion, curry power, thyme, nutmeg, and corn meal and makes for an enticing addition to your prized okra salad.
With its dose of ginger, olive oil, vinegar, soy sauce, honey, and fresh ginger root, this delicious, mayo-free dressing is what it takes to pep up your okra.
Chili Dressing
Add some warmth to your okra with this red-hot chili dressing that packs in ingredients like cherry bomb chili, coriander, rice vinegar, and honey.
Miso Dressing
This is one dressing you are likely to reach out for over and again. Light, mild, and sweet, miso dressing adds a great finishing touch to your okras.
Take some olive oil and vinegar, add in a variety of spices, herbs and other delectable ingredients, and voila! You have a yummy vinaigrette to go with your okra.
If the thought of noshing on greens and beans repels you, then adding a dash of shrimp to your okra would spruce up its flavor quotient by bounds.
Some foodie had rightly said, you could never really go wrong with garlic. The zesty garlic brings its own distinctive flavor to this dressing and leaves you relishing its garlicky tang for long.
Yogurt and Mint Dressing
The goodness of yogurt and the refreshing flavor of mint comes together to give your okras a heart kick. An irresistible vegan dressing for sure!
Tamarind Dressing
Tangy, tasty, and totally lip-smacking, tamarind dressing adds on a dash of yummy tang to your okras. A must-try for every foodie!
Cumin Dressing
Packed with spicy flavor, zesty cumin adds in a spark of life to your boring okras, creative a firework of flavors in your mouth. An irresistible dressing for sure!
Spicy, zesty, tangy, or hot, okra dressing comes in a hoard of flavors and textures and promises to bring life to your boring veggie dinners.
Image Credits: ifood.tv
Popular Okra Dressing Ideas