Brussels Sprout Dressing
29 Jul 2011
Bid adieu to boring peas and potatoes, and whomp up some amazing sides using Brussels sprouts to complement your mains. Brussels sprout dressing not only adds a refreshing crunch to your food, but also makes for a healthy inclusion. Just add some flavored oil, vinegar, cream or mayo, dust with salt and cracked peppers, and you have a yummy dressed Brussels sprouts at hand. To know more on how to make Brussels sprout dressing, read on.
Top 10 Brussels Sprout Dressing Ideas
The gutsy combo of honey and mustard pumps up the flavor of Brussels sprout and lends your green an unbelievable tang.
2. Sesame Miso Dressing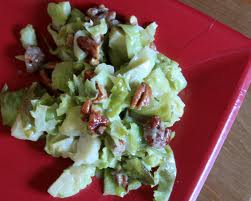 Sesame and miso comes together to pack a powerhouse of taste to your Brussels sprout, enhancing its flavor ore than you could ever think.
3. Roasted Garlic Dressing
Roasted garlic dressing makes an excellent stand-by for mayo, and tastes mellower than raw garlic. An excellent way to zest up your boring Brussels sprout.
4. Warm Vinaigrette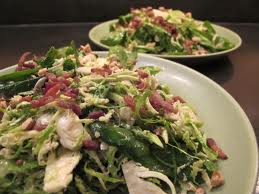 Warm vinaigrette on Brussels sprout intensifies its flavor by large apart from brightening the greens.
5. Corn Bread Dressing
A crunchy dressing to complement your garden-fresh Brussels sprout, this unique vinaigrette is likely to linger on your taste buds forever.
6. Poppy Seed Vinaigrette
Mildly flavored, slightly nutty, and creamy, poppy seed vinaigrette that combines crunchy poppy seeds, vinegar, and salad oil makes for perfect drizzle over your Brussels sprout.
7. Almonds and Ginger Dressing
The crunch of almonds and zing of ginger lends this dressy concoction a unique flavor that is refreshing to the taste buds.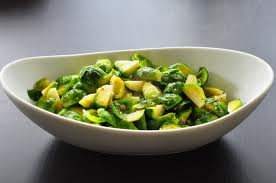 The distinctive flavor of different herbs adds to jazz up the taste and texture of crunchy Brussels Sprout.
9. Roasted Garlic Lemon Dressing
When really stuck for time and resources, this conventional ginger lemon vinaigrette can bail you out. A luscious treat for your palate!
10. Brussels Sprout Slaw
If you thought that these tiny, crunchy cabbages are best meant for your stir-fries and salads, know that the brilliant Brussels sprout slaw makes for an equally fantabulous addition to your meals.
Crunchy, zesty, creamy, or sweet, Brussels sprout dressing only helps to spice up its flavor and texture and makes this boring veggie totally drool-worthy!
Image Credits: obsessedwithdinner.com, blogs.babble.com, drpatelsdietdotcom.wordpress.com, greensnchocolate.com
Brussels Sprout Dressing