Popular Spring Onion Dressing Ideas
28 Jul 2011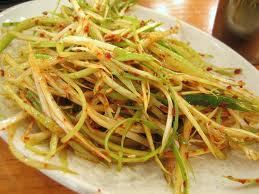 From smoked salmon to perfect roast potatoes, spring onion dressing adds that extra-pizzazz to all your food. Spring onions blended with delectable herbs, tangy cream and flavorful oil make for a great suppertime fare, especially when served with perfect treats like prawn wantons or steamed sea bass. Starters or nibbles, a perfectly whipped up dressing just doubles up its joy in a big, big way. So whether you are hosting a brunch or need a zesty dressing to go with your duck breast, reading this write-up on how to make spring onion dressing would suffice.
Top 10 Spring Onion Dressing Ideas
1. Lime And Spring Onion Dressing
For a stick-to-your-ribs hearty fare, try tossing chunks of boiled potatoes into a dressing made of olive oil, limejuice, mustard, pepper, and lemon rind and devour!
2. Spring Onion Ranch Dressing
Add exciting twist to your everyday salads with the creamy, delectable spring onion ranch dressing that whips in buttermilk, garlic and not to forget, loads and loads of spring onions.
3. Spring Onion And Ginger Dressing
Succulent beef tenderloin spiced with spring onion and ginger dressing is something that you wouldn't really like to pass on without giving a try. It is indeed worth every shot!
4. Mustard Dressing
Delightfully zesty, spring onions combined with piquant mustard makes for a real relish. For real flavor, try having it with roasted ham, cooked crab, or some other meaty delight.
5. Sweet Chilli Dressing
Something as delectable as a roasted duck breast topped with sweet chili and spring onion dressing for your weekend night supper special wouldn't be a bad idea. Just make sure you use tender spring onions to make this delish dressing.
6. Sesame Tamari Dressing
Ditch the same old salad and toss up something refreshing and absolutely tantalizing as spring onion salad dressed up with sesame and tamari vinaigrette. The nutty-flavor of sesame and the tangy feel of tamari make this a-one dressing a winner!
If you are looking to flavor up your salads, entrees and nibbles with something sweet, then sweet soy dressing combined with soy sauce, sugar, and spring onions would fit the bill.
8. Spring Onion And Vinegar Dressing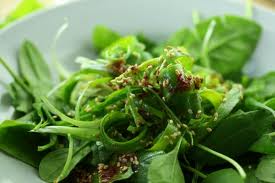 This basic spring onion vinaigrette, tossed up using spring onions, vinegar, and olive oil goes well with almost all salads. An easy dish to whop up!
9. Spring Onion Salad Dressing
Creamy, zesty, and mildly sweet, spring onion salad dressing doubles up both as a dressing and a dip. This dish can be relished with your side dish as well as starters.
10. Spring Onion And Ginger Dressing
Spring onion and ginger dressing is easy to stir up and makes for a quick substitute when you have run out of your vinaigrette or mayonnaise.
Spring onion dressing is any day a better alternative than store-bought overly piquant dressings. Not only does this homemade blend packs in more flavor and makes for a refreshing alternative to your regular vinaigrette, but also can be tossed up in a snap.
Image Credits: ifood.tv, pantrybites.com, thehungrybunnie.blogspot.com, guardian.co.uk, thecattylife.com
Popular Spring Onion Dressing Ideas