Popular Daikon Dressing Ideas
28 Jul 2011
To help you turn your boring suppertime into something snazzy, we have put together a cache of daikon dressing to help breathe life into your tempuras, crudités, and salads. An indispensable ingredient in Japanese cuisine, this sumptuous radish dressing can be whipped up with vegetables, oysters, chicken, and prawns to create a smorgasbord of yummy delicacies. If you are clueless on how to make daikon dressing at home, these interesting ideas should get you on.
Top 10 Daikon Dressing Ideas
The savory wasabi dressing is indeed a delicious way to unwind at the end of a long weekday and add some pizzaz to your suppertime daikon salad.
2. Coconut Lime Dressing
Coconut milk adds a dash of sweetness to this otherwise creamy, gooey, mildly citrusy dressing that just tastes divine with lobster daikon sprout spring rolls.
3. Ume-Shiso Dressing
Tart, spicy, and somewhat briny, ume-shiso dressing whipped up using 'umeboshi' or pickled plumps and garden fresh 'shiso' is a feasty treat for the senses. A perfect accompaniment for juicy shrimp and crunchy daikon salad!
4. Lemon and Daikon Dressing
Picture this: Lightly crumbled lemon flesh topped with pulped daikon, thick slices of bottarga, drizzled with a zesty dressing loaded with flavors of daikon, chili, and lime. A mouth-watering bet indeed!
5. White Miso Dressing
A blend of white miso paste, plain soymilk, unseasoned rice vinegar, mild honey, and sesame oil gives this dressing its sumptuous flavor and melds well with asparagus and tofu salad. Sprinkle roasted sesame seeds for extra crunch.
Tahini, sesame oil, mirin, soy sauce, sugar, vinegar, chives and coriander goes into this dressing that makes excellent accompaniment with duck and daikon salad.
Kikoman, ginger, and honey drizzled over beef tenderloin and heavy daikon slices does the trick and just gets your appetite fully satiated.
8. Sweet Citrus Dressing
Tangy, tasty, and surprisingly sweet, this sweet citrus dressing only adds to enhance the piquancy of daikon. Try this for a refreshing change!
Peanut dressing is exactly what you need when you have to whip up a dressing in a jiffy. The flavor of peanut oil and vinegar and the crunch of peanut add to the taste of zesty daikon.
10. Vinegar Dressing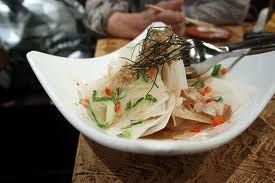 This classic vinaigrette dressing remains unbeatable when it comes to stirring up something zesty, simple, and light for your daikon.
These homemade blends not only accentuate the flavor, texture, and taste of daikon, but also add a variety to your dinner cart. Try daikon dressing and get smacking your tongue!
Image Credits: ifood.tv
Popular Daikon Dressing Ideas