Radicchio Dressing
27 Jul 2011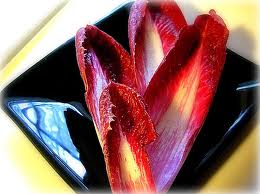 From saucy and zesty to spicy and tangy, radicchio dressing comes in a hoard of flavor, color, and taste and make for snazzy addition to your entrees, mains, and  nibbles. This tender, mildly bitter, delicately flavored, prized variety of chicory not only is a regular in Italian pasta and risotto, but can also be used to make mouth-watering dressings. Never mind if you don't know how to whip up these savory dressings for we bring you 10 fantabulous ideas on how to make radicchio dressing.
Top 10 Radicchio Dressing Ideas
1. Sherry-Mustard Dressing
Need a yummy dressing to go with your grilled radicchio? If yes, then try the hearty, delicious, and extremely flavorful sherry-mustard dressing. This delectable dressing is easy to whip-up and skimps on time and not flavor.
Savor the flavor of green olives and the bitter bite of radicchio with the crunchy, colorful dressing that makes for a perfect addition to your plate on starved evenings.
3. Roasted Bell Pepper Dressing
The slightly sweet flavor of roasted bell pepper melded into the bitter bite of radicchio lends this savory dressing its unique taste. Top it off with loads of burrata cheese and parsley for added flavor.
4. Balsamic Rosemary Dressing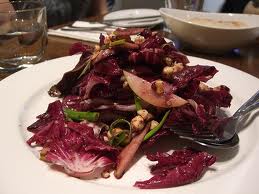 For a sumptuous dressing, a la Italian style, try this awesome vinaigrette. The warm flavor of rosemary, the sharp taste of balsamic, and the mildly bitter taste of radicchio peps up a whole smorgasbord of flavor in your mouth.
5. Guanciale Dressing
Crispy, creamy guanciale tossed into robust chunks of radicchio and tempered with pepper, vinegar, and red onion makes this dressing truly one-of-its-kind.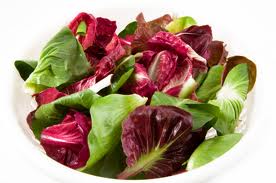 This flavorful, Sicilian-style anchovy dressing makes for perfect accompaniment with radicchios and makes a zesty addition to your meals.
7. Pomegranate Dressing
Tangy radicchio tossed with sweet pomegranates creates a burst of flavor inside the mouth. If you don't mind being experimental, this is the dressing for you.
Pear adds a dash of sweetness to radicchio salad and leaves you merrily satiated. Toss in some endives, almonds, and spinach for extra health and taste.
9. Honey Mustard
This classic dressing perfectly complements radicchio and mellows down the astringent flavor of the chicory. Perfect for winter supper!
10. Creamy Cilantro
No dressing list is complete without creamy, flavorful cilantro dressing that jazzes up the texture and taste of radicchio salad.
Radicchio dressing is chock-full of yummy ingredients and brings in their own share of health and zest to your plate.
Image Credits: ifood.tv
Radicchio Dressing