Pineapple Garnish-How To Tips & Ideas
21 Jul 2011
Pineapple garnish is a favorite choice of garnish, particularly for the drinks. However, you can also use juicy, fleshy pineapples to garnish other foods like salads, rice dishes, meat preparations, ice creams, cakes and so on. Here are some fresh pineapple garnish ideas, with which you can bring a difference into your regular served foods.
Tools for Pineapple Garnish
A sharp chef's knife and a paring knife are required for preparing the pineapple garnishes. Peeling off pineapple is a critical task and you must have the skill on peeling the pineapple. A paring knife is the best tool for peeling purpose. After peeling the skin, you need to remove the eyes individually. Use the chef's knife to divide the pineapple in halves. To attach the pineapple garnish on foods or drinks, you can use toothpicks.
Simple Pineapple Garnish Ideas
Pineapple Triangles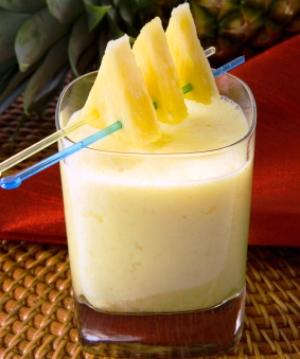 After you peel off the pineapple skin and discard the pineapple eyes, you should make thin crosswise slices. Remove the core from the slices and cut into small triangles with the paring knife.
Use the pineapple triangles to garnish drinks, smoothies or fruit juices, by pricking into toothpicks or stirrers.
Pineapple Chunks
Take the peeled pineapple to cut into several pieces, with the help of chef's knife. Now, cut these pieces into small chunks or cubes with 1-inch dimension.
Spread the pineapple chunks on top of salads, fruit salads, custards, or rice preparations.
Pineapple Boat
This is comparatively difficult choice of pineapple garnish. To prepare the pineapple boat, you have to divide the pineapple in half, without peeling the skin. Now, gently scrape out the flesh from both parts by keeping a 1-inch thick wall. Use a sharp paring knife to work on this part.
Use the pineapple boat for serving various food preparations like fruit salad, vegetable salad, fried rice, prawns etc.
Tips on Pineapple Garnish
You must have knowledge on how to peel pineapple, before you start on with the garnishing.
Thoroughly wash the pineapple and pat dry with paper towel before cutting the garnish.
Handle the pineapple garnishes gently, otherwise these might get damaged.
Do not prepare your pineapple garnish in advance of 2-3 days, as the flavor and taste will not remain same.
Sprinkle little amount of sugar on top of pineapple slices and place inside refrigerator. This will keep the taste of the pineapple intact.
With all these interesting ideas on pineapple garnish, you can start the garnishing project right now. Just get a ripe and medium sized pineapple from your market and enjoy experimenting with garnishes.
Image Credit: cooks-cozy-kitchen.com,  ifood.tv, utopiankitchen.wordpress.com, thehealthseekerskitchen.blogspot.com
Pineapple Garnish-How To Tips & Ideas