Beef Garnish-How To Tips & Ideas
21 Jul 2011
If you are interested to learn on different types of beef garnish ideas, then go through this article. Beef garnish is not that common method of garnishing food, but there is no harm in experimenting with food. Therefore, here are few exclusive ideas on beef garnish, which you can easily try at home and make your food more delicious.
Tools for Beef Garnish
A sharp chef's knife is the most essential tool for preparing different types of beef garnish. You can also use kitchen shears to cut thin strips of beef. You will require a pair of forks for preparing the shredded beef garnish. Finally, if you want to secure the garnish in a nice way on your food, then you will require toothpicks or skewers.
Exclusive Ideas on Beef Garnish
Beef Steak
Prepare the beef steak according to your favorite recipe. Use the chef's knife to make thin slices of the steak. You can also trim off the sides to give the steak slice a proper shape, if desired. You can also cut the slices in various shapes like star, flower, heart etc.
Place the thin steak slice on savory thick soups or authentic noodle preparations in Oriental style.
Beef Strips
Make thin slices out of the steak and then cut out fine strips of beef with the help of kitchen shears or chef's knife.
Pile up the beef strips on noodles, stir-fry preparations, soups, salads etc.
Beef Shreds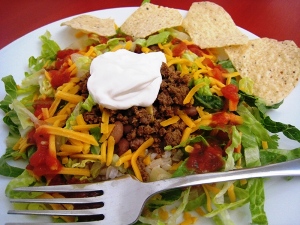 Take a thin beef steak slice to bring out the meet shreds by using two forks. For best result, try to make the shreds as thin as you can.
Shredded beef is a favorite garnish for Mexican taco salads. You can also use this garnish on any type of salads, soups, rice or noodle preparations, and so on.
Tips on Beef Garnish
Use leftover beef steak to prepare your beef garnish. In case you do not have any leftover, then cook the meat before preparing the garnish.
You can cook it in any method - all you need is a soft and tender piece of beef steak for the garnishing purpose, but make sure to clean the beef thoroughly before cooking.
Always season the beef garnish according to your taste, while using on food. The seasoning of cooked meat might be less than the food, where you are using the garnish.
You may prepare the garnish in advance. In that case, you should store the beef garnish in an airtight container inside the refrigerator.
Apply these easy beef garnish ideas, while you are ready for garnishing your food. These are definitely going to make your food unique as well as delicious.
Image Credit: ifood.tv, jeffeatschicago.com, maxody.wordpress.com, lifeasmom.com
Beef Garnish-How To Tips & Ideas