Parsley Garnish-How To Tips & Ideas
21 Jul 2011
Parsley garnish is most easy and popular way to garnish your food and beverage. This herb is commonly available in all parts of the world and anybody with or without any cooking skill can try out this garnishing. Here you will find some of the easiest parsley garnish ideas, which are also quick and simple.
Tools Required for Preparing Parsley Garnish
A bunch of fresh and clean parsley is itself sufficient for garnishing the food, without going into any complicated procedure. However, you will require a sharp paring knife, if you want to chop the fresh leaves and stems of parsley.
Simple Ideas on Parsley Garnish
Parsley Sprigs
You can use fresh parsley sprigs for garnishing purpose. To collect these sprigs, just snip off the tender and top part of the parsley stems, and use this snipped off part for garnishing.
Nicely arrange the fresh parsley sprigs on your serving platter or in the serving glass.
Use the sharp paring knife or vegetable knife, to chop parsley finely. The finer the chop, the more is the flavor.
Sprinkle the chopped parsley on top of soup, salad, appetizer, main dish, side dish etc, as per the requirement.
Dried Parsley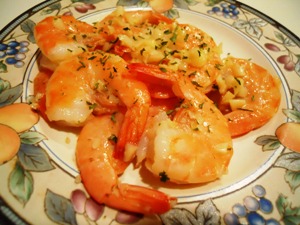 Dried parsley is available as a product in most of the super markets. However, you can prepare these at home, using the food dehydrator machine, in case you have. Otherwise, spread the cleaned parsley leaves on kitchen tissues in a dry and hot place for few days. The leaves will normally get dry, which you can store in a dry, airtight container for later usage.
Finely grind the dried parsley leaves with your hand or in a grinder machine and sprinkle the ground parsley on top of your food. This is also a perfect garnish for any kind of savory preparation.
Tips on Parsley Garnish
Always wash and rinse the parsley leaves thoroughly, before using for any garnish.
Place the washed leaves on kitchen towels to soak excess water. Gently pat on the leaves to dry thoroughly.
Use fresh parsley garnish, to enjoy the best flavor of the herb. In case you have limitation, then switch over to dried parsley, as these are easy to use.
Do not store your fresh parsley garnish for later use, as it will lose the flavor.
Keep the freshly prepared parsley garnish away from heat or wind to retain the freshness.
Now you know how to use parsley garnish ideas. Try these simple garnishing ideas to decorate your foods and drink, and enjoy loads of kudos from your family members.                                                                            
Image Credit: tradersnwiches.com,  kokoskitchen.com, thecurvycarrot.com, coconutathome.blogspot.com
Parsley Garnish-How To Tips & Ideas