Salmon Garnish-How To Tips & Ideas
15 Jul 2011
If you want to give an exotic appearance to the foods or drinks you serve, you can try with various salmon garnish ideas. Using salmon garnish is quite a sophisticated choice for the expert chefs. However, before you start experimenting it, you should have some basic ideas on salmon garnish.
Essential Tools for Preparing Salmon Garnish
Preparing salmon garnish requires little skill on handling certain kitchen tools. A chef's knife is most essential tool for cutting or slicing the salmon fillet. You can also use a pair of sharp kitchen shears to make thin strips or slices of fillet. Use toothpicks or skewers to attach the garnish on the food or drink.
Simple Salmon Garnish Ideas
Smoked Salmon Strip
Cut the smoked salmon fillet in thin strips, with the help of chef's knife or kitchen shears.
Smoked salmon is a delicate choice of garnish for the appetizers or snacks preparations, particularly for sushi and sashimi. Use the strips to garnish mini-breads, open sandwiches, pizzas, pastas, salads, or soups.
Salmon Roe
Salmon roe is considered as a delicacy, mostly for Oriental cuisines like Japanese, Chinese, Korean, Malaysian etc. It is actually the ripen eggs of salmon, which you can use as raw or cooked.
Spread the salmon roe on top of Asian style rolls, bruschettas, sandwiches, cakes etc and enjoy the delicate look and taste.
Salmon Wrap
Use the smoked salmon fillet to cut into 4-5 inches long and thin slices, using a sharp chef's knife.
Use the thin smoked salmon slice to wrap carrot strips, asparagus etc. Secure the end by pressing together or use a clove to seal together.
Salmon Rose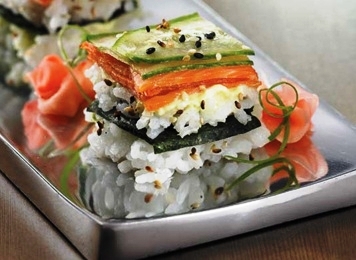 To prepare salmon rose, you should first cut thin and long slices of smoked salmon fillet. Place 2-3 slices one by one by slightly overlapping the edge portions. Now roll all together to give a rose like appearance. Secure the end with toothpicks.
Place the salmon rose on salads, soups, stir-fry preparations or around the sushi arrangements.
Tips on Salmon Garnish
Always wash and clean the salmon fillet to use. Before cutting the garnish, pat dry with a paper towel.
Sprinkle little bit of olive or vegetable oil on the garnish, as it will retain the moisture and original color of the salmon fillet.
Prepare salmon garnish in advance and refrigerate inside an airtight box. The intricate preparation of salmon garnish takes time, so it is better to make these ahead of time.
Properly thaw the frozen salmon garnish, before using on food.
Do not store the prepared garnish for long period, as there could be a risk of infection with bacteria or fungus.
With all these information on salmon garnish, don't you think it is going to be an exciting project of garnishing? So, take your tools and gather the ingredients to get into garnishing at your earliest.
Image Credit: ifood.tv, pinkolive.com.au, thebiggestloser.com.au, theculinarylifestyle.com, ifood.tv 
Salmon Garnish-How To Tips & Ideas