Pepper Garnish-How To Tips & Ideas
13 Jul 2011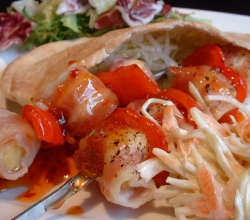 The vibrantly colored bell pepper garnish can brighten up the appearance of any food or drink served to your guests. Here are some easy and innovative pepper garnish ideas to use in your dinner table. You can use these to garnish salads, main or side dishes or even drinks in a unique way.
Tools Required for Preparing Pepper Garnish
A sharp paring knife is the most essential tool required for this purpose. You can also use a pair of kitchen scissors to cut thin slices of pepper. Toothpicks and skewers are useful to secure the garnish on the food or drink.
Easy Ideas on Pepper Garnish
Pepper Ring
Cut out the stem with the help of a paring knife. Discard the core and seeds. Thinly slice the pepper in crosswise direction to prepare the pepper rings.
Place the pepper rings on salads or main dishes for garnishing.
Pepper Slice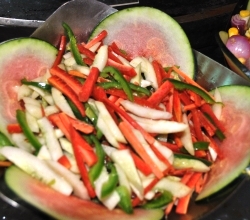 To get thin pepper slices, first you should trim off the stem and remove the core and seeds. Cut the pepper into half and make thin slices with the help of a paring knife or kitchen scissors.
Use thin pepper slices to garnish salads, stir-fry preparations, rice dishes etc.
Pepper Cup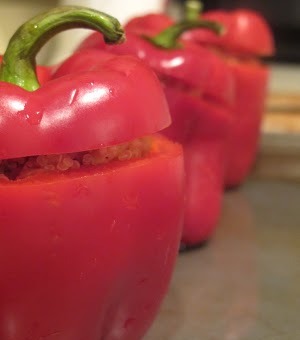 Use the paring knife to cut the top part of the pepper by keeping the stem intact. Save the stemmed part to use as a lid of the pepper cup. With a spoon, scoop out the seeds and core part of the pepper.
Serve salads, cream, cheese, rice preparation etc inside the cup.
Tips on Pepper Garnish
Always use fresh peppers to prepare the garnish.
The large sized peppers are best for preparing the garnish. When you buy the peppers for garnishing purpose, select those, which are strong and sturdy.
To retain the fresh color of the peppers, blanch the pepper garnishes before using.
Dip the pepper garnishes in ice water for 5-10 minutes to make crispier.
Store the pepper garnishes in airtight box and refrigerate for later use.
Apply these brilliant pepper garnish ideas in your kitchen to decorate your food and enjoy with your family members and friends.
Image Credit: ifood.tv,  ifood.tv, vegetarianwhohatestofu.blogspot.com 
Pepper Garnish-How To Tips & Ideas