Potato Garnish-How To Tips & Ideas
8 Jul 2011
Potato is a favorite ingredient for most of us and adding potato garnish definitely makes the dish more delicious to the potato lovers. Here you will find different types of potato garnish ideas, starting from simple to critical. Read on to learn about these interesting garnishing ideas with potato.
Tools Required for Potato Garnish
A vegetable peeler is useful for peeling off the potato.
A sharp paring knife is also essential for cutting the potato garnishes.
You might use vegetable shredder to prepare fine potato shreds.
Toothpicks are essential to secure the garnish and to attach on the food, if desired.
Interesting Ideas on Potato Garnish
Potato Wedge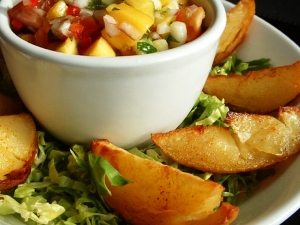 It is the most easy potato garnish idea. Use peeled or unpeeled potato to cut into wedges – thick or thin, according to your requirement. Steam, bake, or deep fry the wedges to use as garnish.
Use the potato wedges to garnish salads, savory meat or fish preparations, rice dishes etc.
Potato Slice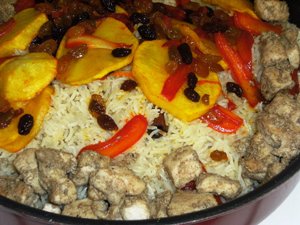 Use a sharp knife to cut the potato in thin slices crosswise. Deep-fry the slices in hot oil, drain on absorbent paper and then use as garnish.
Place the potato slice garnish on top of pizzas, sandwiches, pastas, rice etc.
Potato Julienne
To julienne the potato, you should first cut it into thin slices. Now stack 4-5 slices on the cutting board and cut out thin strips with a sharp paring knife. The thinner you make, the better the taste. Deep-fry this julienned potato and drain oil before using for garnishing.
Pile up the fried potato julienne over savory meat, poultry, or fish preparation. You can also garnish soup or salad with this garnishing.
Potato Fan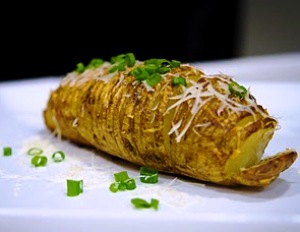 To prepare potato fan, you will require little practice on potato slicing. Place the potato on the cutting board horizontally and make thin slices without cutting the base. Bake or deep-fry this potato fan and use as garnish.
Potato fans are beautiful garnish for salads or other savory main course dishes.
Potato Rose
It is the most critical potato garnish idea among all. First, you should make thin slices out of the potato. Place the potato slices on one another by partly overlapping. Now tightly roll up the slices together and secure the end with toothpicks. Deep-fry the potato rose or bake inside oven.
It is one of the best garnishes for fresh green salads.
Tips on Potato Garnish
You can keep the peel of the potato or take it off, before cutting the garnish.
If you are using unpeeled potato, make sure to wash and clean it thoroughly.
Dip the raw potato garnishes in a bowl of salted water for 10-15 minutes before cooking.
Place the potato garnish in an airtight box for later usage.
Stored potato garnish must be warmed in the oven or microwave to retain the crispiness.
Now, it is your turn to experiment with these interesting potato garnishing ideas and enjoy delicate looking food with your friends and family members.
Image Credit: ifood.tv, tammyssomalihome.blogspot.com, simplyalicia.com, theelliotthomestead.blogspot.com, stills4u.com 
Potato Garnish-How To Tips & Ideas