Fish Garnish-How To Tips & Ideas
8 Jul 2011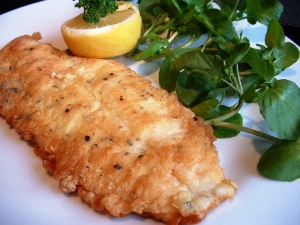 Fish garnish commonly used in South Asian cuisines, but it is comparatively a new area for many of us. You can try with several fish garnish ideas to make your food taste and look fabulous. Particularly, if you are a seafood lover, you will definitely appreciate these unique garnishing methods with fish.
Tools Required for Preparing Fish Garnish
The basic tool for cutting and preparing fish garnish is a sharp chef's knife. A pair of kitchen scissors might be useful in making thin strips out of the fillet. To prepare the shredded fish, you will require a pair of fork.
Easy Ideas on Fish Garnish
Fish Strips
To prepare the fish strips, first you need to cook the fillet in whatever way you like including baking, frying, smoking, steaming etc. Allow the cooked fillet to cool down before you cut into strips, with the help of sharp chef's knife.
Pile up the fish strips on stir-fried preparations, potato chips, pizzas and rice preparation etc to garnish.
Fish Shreds
Preparing fish shreds will also require cooking the fish fillet before shredding. Use two forks to bring out the fish flakes out of the fillet and make individual pieces of long shreds.
Fish shreds are common garnish for Korean and Japanese preparations, particularly soups, salads, noodles etc.
Fish Balls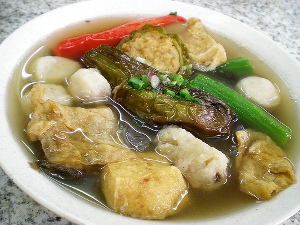 You can buy readymade fish balls or can prepare at home. To make these at home, you will require minced fish, which you can be prepared in your food processor. Combine this minced fish with your choice of spices and make out little round-shaped balls. Steam or fry these balls to use as garnish.
Steamed fish balls are favorite garnish on noodles or soups. Fried fish balls can be used to garnish fried rice or different types of stir-fried dishes.
Tips on Fish Garnish
Always use fresh fish fillet to prepare the garnish. If you are using whole fish, then learn to wash and clean the fish before using.
Wash the fish fillet thoroughly and then pat dry with paper towel.
You should always cook the fish garnish, instead of using these raw.
It is better to prepare the fish garnish ahead of time and then store inside refrigerator for later use. You can always warm these fish garnish in oven or microwave before using; otherwise use these cold, if required.
You may use variety of marinade to marinate the fish garnish, as this will enhance the taste to large extent.
With all these tips and ideas on fish garnish, you can surely go ahead to get some hands on experience on garnishing in a unique way.
Image credit: ifood.tv. discusscooking.com. vkeong.com. suituapui.wordpress.com 
Fish Garnish-How To Tips & Ideas