Onion Garnish-How To Tips & Ideas
6 Jul 2011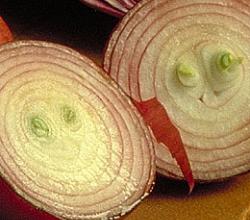 Onion garnish is perhaps the simplest way to decorate your foods. Here you will find some easy onion garnish ideas to start with your garnishing project.
Tools Required for Preparing Onion Garnish
A sharp vegetable knife is most essential requirement for cutting the onion garnish. In case of green onions, you can use a pair of small-sized scissors to make thin and fine cuts.
Simple Ideas on Onion Garnish
Onion Slice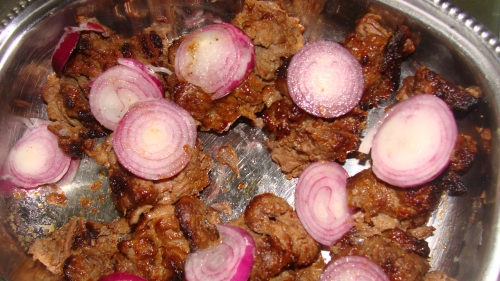 To prepare the onion slices, cut the onion crosswise in thin slices, using a sharp vegetable knife or paring knife. Cut the onion slices in complete rounds keeping the inner rings intact.
Onion slices are most common form of garnish used for salads, savory meat preparations, rice dishes etc.
Onion Rings
Preparing the onion rings will require cutting the onion in horizontal slices in .5 cm thickness. Now using your hand carefully remove the rings from the onion slices without breaking the circle.
Place the onion rings over various types of savory preparations like meat kebabs, rice pilaf, fried chicken wings and so on.
Onion Lotus
You can prepare a perfect lotus from the onions, if you are skilled in this area. Otherwise, you can try with the simple version of onion lotus garnish. To prepare the onion lotus garnish, place the onion on its root. Using a sharp knife cut the onion into 6-8 vertical wedges without cutting the root. Now carefully place the onion petals apart from each other to give this a lotus-like appearance.
Use the onion lotus to decorate salads, main or side dishes, snacks, appetizers etc.
Tips on Onion Garnish
Always peel the onion and then wash and pat dry, before cutting the garnish.
Prepare the onion garnish, just before serving the food, as cutting in advance will destroy the taste and flavor of onion.
Never plunge the onion garnish in water for maintaining the freshness. It will make the onions taste bland.
Do not store the onion garnish in refrigerator for several hours. This will also destroy the fresh aroma of onions.
Keep the onion garnish away from heat or air, to retain the freshness.
With all these handy tips on onion garnish, you can have much better grip on attractive presentation of your dishes and can surely be successful in your next garnishing project.
Image Credit: ifood.tv,  tbcb-chickenrecipes.blogspot.com, familydailymenu.blogspot.com,  ifood.tv
Onion Garnish-How To Tips & Ideas