Carrot Garnish-How To Tips & Ideas
29 Jun 2011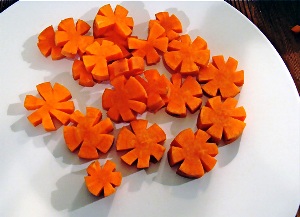 Exquisitely prepared carrot garnish can make your salad or other carrot-based preparations look just awesome. You can also use them to garnish a salad platter or even as the centerpiece for your lunch table setting. Here you will learn about some exotic carrot garnish ideas.
Tools Used for Carrot Garnish
It is most essential to use correct garnishing tool to prepare the garnish in perfect shape, otherwise the whole purpose of garnishing will get lost.
Carrot Curler – makes curly carrot cones
Vegetable Peeler – peels off the skin in thin layer
Paring Knife – removes the fine skin or cuts thin strips
Grater – grates or shreds carrot
Cookie Cutters – cuts carrot slices in various shapes
Carrot Garnish Ideas
Carrot Sticks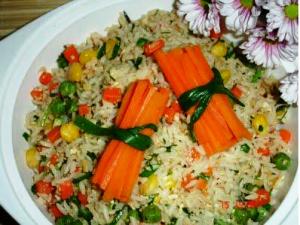 Cut the carrots crosswise in 4-inch long pieces. Now with a sharp knife, cut thin sticks. Make a bundle of carrot sticks and tie with seaweed or green onion top.
Use the carrot sticks to garnish Oriental style stir-fried preparations.
Carrot Rose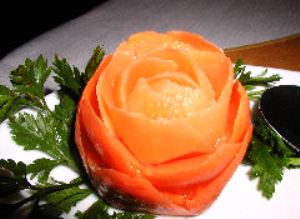 With a paring knife, carefully remove a continuous thin layer of carrot peel in spiral direction starting from the top end. Try to make the peel as long as possible. Now roll the peel to form a rose like structure. Place the petals little apart to resemble a rose.
It is a common garnish for salads and various Oriental dishes.
Carrot Stars or Flowers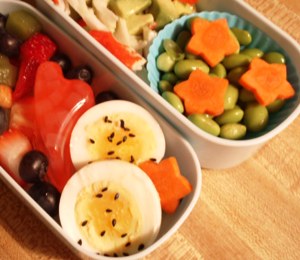 Cut the carrots in thin slices along the width. Use a similar sized cookie cutter in star or flower shape to cut each slices accordingly.
Use these garnishes on salads or rice preparations.
Carrot Leaves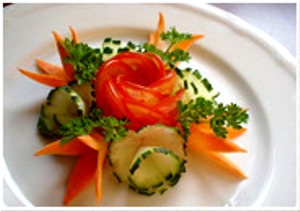 With the tip of a vegetable peeler, cut 5-6 grooves along the length of the carrot. Now, slice the carrots in diagonal direction to prepare the serrated-edge leaves. To make long and plain leaves, use small sized carrots and slice thinly in vertical direction.
Use to decorate a centerpiece with carrot rose and other garnishes. You can also put these carrot leaves on salads, rice preparations, or Chinese-style noodles preparations.
Carrot Curls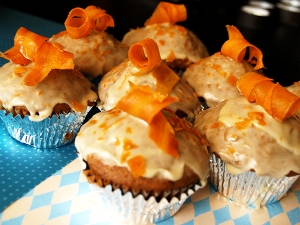 Use carrot curler to prepare the cone-shaped carrot curls. Alternately, make use of the vegetable peeler to bring out thin curly peels of carrot. To make it curlier, curl the pieces on a pencil before using.
Carrot curls are perfect garnish for all carrot-based desserts like carrot cakes, carrot cupcakes etc.
Tips on Carrot Garnish Preparation
Always use fresh and tough carrots to prepare the garnish.
Before you start to prepare the garnish, peel off the outer skin, wash the carrots thoroughly, and pat dry with kitchen towel or absorbent paper towel.
It is better to use freshly cut carrot garnish for decorating the preparation. In case of advance preparation, store the garnish in an airtight box.
To maintain the bright orange color of carrots, blanch the garnish in proper way before using.
Place the garnish away from air or heat to maintain the freshness.
With all these handy tips, now you can go ahead with experimenting on various types of carrot garnish ideas to amaze your guests and family members and win appreciations.
Image Credit : apartmenttherapy.com, simplysensationalfood.com, saltshaker.ne, 
obentoobsession.blogspot.com, managemylife.com, poeticfood.com 
Carrot Garnish-How To Tips & Ideas