Chocolate Garnish

28 Jun 2011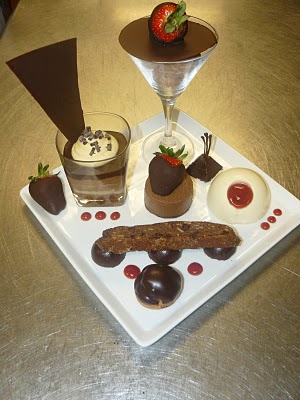 "Garnishes must be matched like a tie to a suit" – Fernand Point.
The statement sounds even more appropriate when it comes to decorating your desserts with some chocolate garnish. You don't have to wait anymore to try the lovely chocolate curls and the very tempting chocolate swirls in your own kitchen, and that too by just using simple tools like a greater, vegetable peeler, cookie cutter etc. Read on to know how.
Try These With Ease
1. Grated Chocolate: Dark, milk or white chocolate just sprinkle a little bit on your desserts or drinks and watch them come alive. Chocolate garnish using grated chocolate is simple. Just rub a piece of your favorite chocolate across a handheld greater to get fine grated chocolate.
2. Chocolate Shavings: Another fabulous and super simple chocolate garnish you can try at home is chocolate shavings. All you need to prepare these is a vegetable peeler. Slowly draw the sharp blade of a vegetable peeler across the edge of the chocolate slab and voila, you have some chocolate shavings for your dessert.
3 Chocolate Drizzle: Great chocolate garnish to give that final touch to your cakes or ice creams is a  simple chocolate drizzle. Melt some chocolate in a double boiler and fill it in a plastic bag. Seal the bag tightly and cut one small corner using scissors. Squeeze the chocolate evenly onto your plain desserts to change them into an irresistible treat.
Chocolate Ribbons And Frills….Need A Bit Of Culinary Skill.
1 Chocolate Curls: Pretty chocolate curls are sure to take your recipe up by a few notches. Melt the chocolate in a double boiler and spread a layer approx ¼ inch thick on the back of a baking dish. Let stand for a few minutes until the chocolate becomes a bit firm. Using a metal spatula with a straight edge, start pushing under the chocolate so that the chocolate forms curls. Using a toothpick, carefully lift the chocolate curls and use as desired.
2 Chocolate Cutouts: The cookie cutters get an added task with this chocolate garnish. Melt the chocolate in a double boiler and spread on a cookie sheet, approx ¼ inch thick. Allow to set a bit. Place the cookie cutters on the chocolate. Lift the cutouts using a metal spatula and use as desired. Use different shapes of cookie cutters to add some variation to your chocolate garnish. To get perfect cutouts, make sure that the cookie cutters are a bit warm. You can do this by rubbing them between your hands.
3 Chocolate Sticks: Simple yet delightful, chocolate sticks can instantly add a lot of appeal to cakes, ice creams or puddings.
Melt your favorite dark or white chocolate in a double boiler and brush the melted chocolate on a sheet of plastic wrap. Pleat the wrap a bit and place in the refrigerator until firm. When ready to use, just straighten the plastic wrap by pulling it. The chocolate will break into chocolate sticks.
One of the best parts about chocolate garnish is that you can actually prepare them in advance and store in the refrigerator until use.
So now that you are all set to transform your desserts into a gourmet delight with these chocolate garnish ideas, don't forget to send me few.
Image cortesy: nowthisislife.blogspot.com 
Chocolate Garnish