Fruits Garnish-How To Tips & Ideas
24 Jun 2011
Almost all dessert preparations can have fruits garnish. Apart from the desserts, certain gourmet main course preparation, too, can be given a special and unique with fruit garnishing. Go through this blog, to learn more about attractive fruits garnish ideas.
Tools Used for Fruits Garnish
Certain garnishing tools are essential for preparing various types of fruit garnishes.These tools help you to give perfect shape and look to your dish.
Fruits Garnish Tools
Usage
Cuts the apple in wedges, also used for other fleshy fruits
Used for coring the apple
Removes the peel in strips from citrus fruits like orange, grapefruit etc
Used to peel off the skin finely from fruits for making different types of fruits garnishes
To prepare orange and lemon zest
Used for shredding the fruits
Used to scrape off the fleshy part from inside
Cuts the fruits in variety of style
Prepares fruit balls in different sizes
Used for various cutting purpose for watermelon, cantaloupes, pineapples, papaya etc.
Secures the garnish on top of the main food
Various Fruits Garnish Ideas
Following are some of the popular choices of fruits garnishes.
Watermelon Balls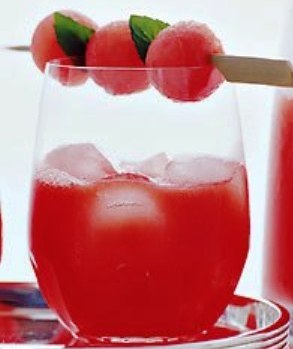 Use a melon baller, to scoop out the red fleshy part of watermelon in small round shapes.
Place the balls over fruit or vegetable salad, top ice cream or pudding, put into fruit juice etc.
Orange Zest
Use a zester to scrape the outer side of the orange peel.
Sprinkle the zest on orange-based desserts including cakes, pies, cookies etc. Also, use to garnish the main course items, prepared with orange as an ingredient.
With a paring knife, make 3-4 cuts lengthwise, without removing the hull. Place the slices little apart, looking like a fan.
Place on strawberry shortcake or any other strawberry flavored dessert with a scoop of whipped cream, if desired.
Cherry Flower
Use a sharp paring knife to cut the cherry into six to eight wedges, without cutting through the bottom part. Carefully separate the wedges apart to look like a blooming flower.
Place the cherry flower on a toothpick to garnish cocktails or fruit juices. Top the ice cream, pudding, custard and other dessert preparations, with one or few cherry flowers. You can also garnish the fruit or vegetable salads with these little red flowers.
Fruity Boat or Basket
Scrape out the inside flesh from any halved strong-shelled fruit like watermelon, cantaloupe, grapefruit, pineapple etc, with the help of a sharp paring knife or grapefruit knife. For making a basket, you also need to prepare a handle out of the fruit wall.
The fruit boat or basket is a nice way to serve fruit salads. You can also prepare watermelon baby carriage from watermelon basket.
Apple Wedges
Thinly slice the apple across the length to prepare the apple wedges. Use a sharp knife to make the wedges super thin.
It is the most popular garnish for apple martini, apple pie, apple pudding and any other apple-based food preparation.
Important Tips on Fruits Garnish
Always use fresh fruits garnish to decorate your food or drink.
Pre-sliced and stored fruits do not carry the fresh flavor and these are unhygienic to use.
To maintain the fresh look and color of the fruity garnishing, brush with lemon juice.
Before preparing any garnish thoroughly wash and pat dry the fruit.
To keep the juicy and fleshy appearance intact, place the fruits garnishes away from heat and air.
With all these fruits garnish ideas on hand, explore the world of garnishing with your creativity, and enjoy serving foods in a variety of way to your guests and family members.
Image Credit: qwikstep.eu, princemathieu.wordpress.com, ifood.tv, appetiteforart.com, 
Fruits Garnish-How To Tips & Ideas