Top 10 Decorating Ideas For Petits Four
18 Mar 2011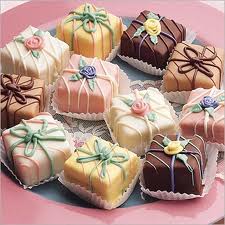 You have always enjoyed them but have you ever known any decorating ideas for petits four? Those tiny little pieces of desserts and can be made to look amazing if you have good decorating ideas. This article will provide you with enough decorating ideas to make your petits four look more than just presentable, in fact delectable.
What Is Petit Four?
It's nothing but a small piece of dessert, served usually at the end of a meal. Sometimes it's the dessert and sometimes it's just served as the part of your dessert. Petit Four, in French means small oven and the tradition of this dessert came as a way of baking the leftovers after the oven is finished with the day's work and is cooling down. Petits Fours are usually small, beautifully iced cakes. The two different categories of Petis Fours are secs and glaces (dry and iced). They can be cookies, macaroons or baked meringues but tiny éclairs, tartlets and glace icing are more popular than the dry Petits Fours.
Petit Four Decorating Ideas
If you are making an iced cake, use pound cake that is sturdy and can withstand your cutting, filling and decorating process. You can also use any other cakes like almond jaconde. A sponge cake not only looks like a sponge, but it makes the cake look a lot better with its honey colored layer.
Some of the sponge cakes you could try are Mocha Sponge Cake, Opera, Genoise, Molasses Sponge Cake, Orange Sponge Cake and Glorious Sponge Cake
When you layer your cake, use flavored syrup so it soaks your sponge cake layers. Be generous while applying the syrup. After all, it's all about indulgence and use a pastry brush while applying. Try plum or any dark colored syrup that enhances the looks of your pastry.
Use chocolate generously to coat éclairs. And apply a tiny little blob of flavored syrup on it to make it look quirky.
You can also make designs on the finished pastry with fruit pieces. Select bright colored fruits like pineapples and strawberries to do the same. A single plum will also look beautiful.
When you make glazing, glaze the entire cake and cut it into little pieces. This will make your job easier.
Use a cookie cutter to obtain several shapes of cakes like squares and diamonds.
Another way to decorate your cake is to layer it with jam and stick a marzipan on it.
A few types of glazes you could use are shiny chocolate glaze, chocolate ganache, rolled butter cream fondant, quick pour chocolate fondant and quick pour fondant icing.
Since petits four have a shiny surface, white and dark chocolate glazes work well on them.
Image Credit: roses-and-teacups.com 
Top 10 Decorating Ideas For Petits Four