How To Decorate A Camouflage Cake At Home

16 Mar 2011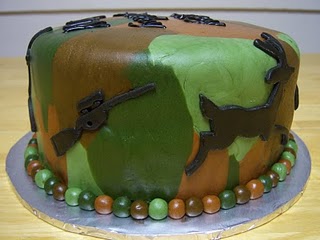 To decorate a camoflauge cake is no less than a puzzle. Decorating a cake using camouflage design works for kids with passion for military equipments and toys, people with military background, surprisingly people love to have this cake on their wedding too.
The technique of camouflage in the cake can be added in many ways, from simple frosting techniques to edible images to place on your cake.
Things you'll need:
Camouflage fabric (several yards)
Olive green and tan balloons Helium tank
Olive green and tan crepe paper (crepe paper color of your choice)
Camouflage helmets Dark netting Artificial bushes, trees and branches Staple gun.

 
Store-Bought Cake and Frosting:

For learners, an unfrosted store-bought cake is the place to start in making a camouflage cake. We can buy any shape or flavor of cake and for the frosting, we use canned toppings. The typical colors for a camo cake are green, brown, tan and black, however I love trying it in tints and shades of pink.
Method:

Separate the frosting into four bowls and dye each bowl a different color. Apply the frosting in random patches all over the cake to look like a camo uniform, filling in every spot with one of the colors.

Fondant:

Start with the cake of your choice in any shape. Separate a sheet of fondant into four sections and dye each section a different camouflage color. Fondant is best dyed by using a few drops of food coloring at a time and rolling the fondant until you get a smooth, uniform shade.
Roll each piece flat and cut out small shapes, similar in size to the patches of color on a camouflage uniform. Roll out a second sheet of fondant as the base for your cake. Place the patches of color all over the base sheet so that you cover the entire thing and roll a rolling pinlightly over the top to set them in place. Place the sheet over your cake and smooth it down around the surface and all of the edges.
Army Helmet Cake:
We can bake a cake shaped like an army helmet for a change than usual camouflage cake. To attain the rounded top of the helmet, we can use a cake pan that produces dome-shaped cakes. After the cake has cooled, decorate the top with different colored frosting or fondant to achieve the camouflage look.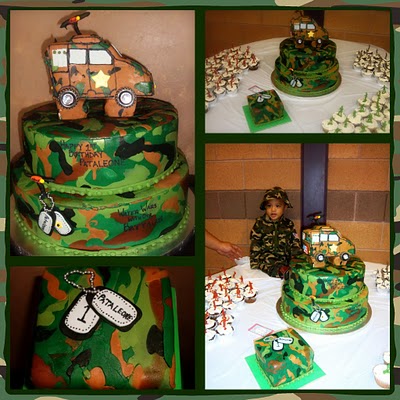 Decoration technique:
Frost a flat cake in camouflage style, using different colors of frosting.
Decorate the cake with toy guns, battle tanks, small trees and toy cars, etc, etc.
Roll out a piece of fondant large enough to cover your cake. Color more fondant different camouflage colors.
Add toy army men to a frosted cake.
You can buy edible images to place on your cake. This is an easy cake decorating solution.
There is never an end for your creativity. So to decorate a camoflauge cake and solve the simple puzzle, read my blog!
For more recipes on baking cake, visit ifood.tv
Image credits: creativecakesbyangela.blogspot.com, cakeadoration.blogspot.com
How To Decorate A Camouflage Cake At Home