How To Substitute Yogurt For Eggs

15 Mar 2011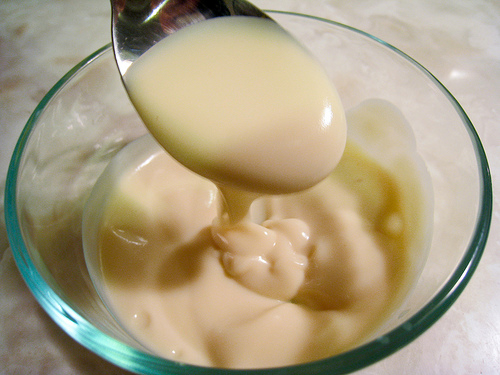 In baking recipes you can substitute yogurt for eggs. Few like to exclude eggs for a variety of reasons such as culture, health and liking. Eggs gives the product the desired texture and taste, however you can also prepare recipes by substituting yogurt for eggs. Some times the recipe made using yogurt may lack actual taste, but it finished products are good. Even some have a better taste than products made using eggs.
There are lots of ingredients that can replace eggs but yogurt is a good substitute for eggs in baking products like cookies, cakes, and muffins. Basically, eggs are used in baking to leaven the end products; yogurt being an acidic ingredient does the same job as eggs. Do you hate eggs, have egg allergy, or just do not have eggs at home. No worries simply use yogurt in the place of eggs.
Steps to substitute yogurt for eggs
If the recipe calls for 1 cup of liquid, take ¾ of plain yogurt. For example if a muffin recipe requires 1 cup of milk, measure three - fourths of plain yogurt.
Add water to the yogurt to make it equal to the total amount of liquid. So you should add ¼ cup of water to ¾ cup of plain yogurt to make it equal to 1 cup of liquid required in the recipe.
Stir the water briskly into the plain yogurt, till it reaches buttermilk consistency.
Now you can use this mixture in the place of the liquid in the recipe. Add this to the recipe as directed.
Also replace baking soda in the place of baking powder. In case your recipe uses ½ tsp of baking soda and ½ tsp of baking powder, use 1 tsp of baking soda for the recipe which uses yogurt. For a cup of flour, you should not use more than 1tsp of baking soda. This is done to avoid bitter taste of the end product.
Now bake the recipe as per the instructions.
For many reasons people do not use eggs, but still you can bake your tasty brownies and muffin by substituting yogurt.  Substitute yogurt for eggs as per the steps and make egg free delicious recipes.
Image credits: farm5.static.flickr.com
How To Substitute Yogurt For Eggs