How To Paint Frosting On Royal Icing

11 Mar 2011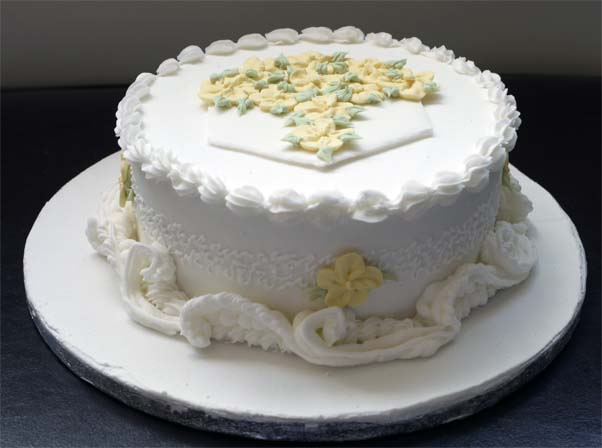 Royal icing on baked products gives a smooth matte finish and hardened  surface when dried. You can decorate the cookies and cakes on the white base of the royal icing. Learn to paint frosting on royal icing to make awesome looking desserts that can be served as conventional starters at any occasion. It holds good for both casual and formal events.
You can prepare Royal icing with raw eggs white, lemon and icing sugar. Some would use meringue powder for egg whites; this powder is white in color and made from dried egg whites, vanillin, gums, and sugar. Meringue powder gives you the same consistency like egg whites, but lacks flavor.
With colored sugars and candies, you can make royal icing look attractive. For more colorful and texture effect you can paint frosting on royal icing. Find the steps for painting frosting onto the royal icing.
Take a cake and place it on a cake plate or a serving platter
Use warm royal icing and coat the cake. The best way to do this is to pour the royal icing on the center of the cake and spread it on all sides and center of the cake using a rubber spatula. If you like to coat separate cake layers, use another 2 cups of icing. Allow it to cool for 20 minutes. Follow the same steps for cookies but use a smaller quantity of icing.
Next to make color frosting, use normal white frosting like cream cheese, vanilla and white chocolate and then add food colors to it. Flavored frosting is also available in the bakery supply stores and grocery. You get them in different flavors such as pomegranate, strawberry, rose petal, and cherry.
Take a rubber decorating spatula and soak it into the colored frosting.  Smear it over the center of the cake and press down and upward like oil painting till you complete the smear. This leaves a texture effect to the cake. Now, again soak the spatula into the colored frosting and repeat the same procedure adjacent to the first. With the frosting create a petaled flower effect. Do this as much as you want on the center of the cake.
Now soak the spatula in the second colored frosting and smear it in the similar manner which you did for the first colored frosting. If you use 2- different colored frosting, a nice decorative pattern can be painted.  Also you can paint flower or any other themed picture on the cake that would look impressive and beautiful.
To paint frosting on the royal icing, use exclusive food colors available in the stores. These food colors get dilute easily and are available in different color shdes.
Image credits: deliciouscakedesign.com
How To Paint Frosting On Royal Icing