How To Decorate A Guitar Cake

16 Feb 2011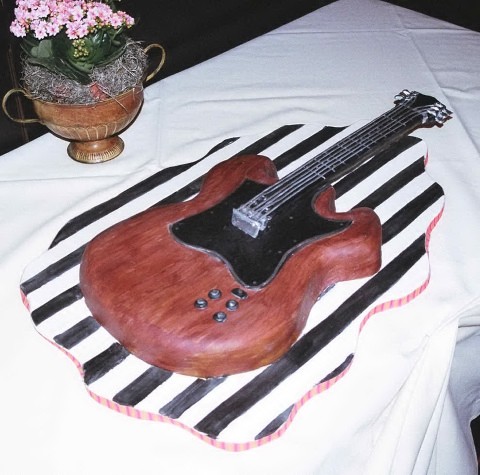 It is not at all that tough to prepare a guitar cake. With Hannah Montana ruling the world, a mom who can make and decorate a guitar cake, will definitely earn some brownie points. So here is how to decorate a guitar cake.
The first task in making a guitar cake is to bake a large thin rectangular cake. Once this cake is made, slowly peel off the top layer, so that the brown skin is replaced by the cream color of the cake. Once this is done, sketch the shape of a guitar on the cake and cut away the side. You can use a template or a cardboard cut out to get the exact shape of the guitar.
Once this is done, the next step is decorating the guitar. You will need edible food colors and icing for this purpose. Separately mix each color and set aside. Now start coloring the guitar, one shade at one place. You can put black color on the handle, green over the body and grey on the strings etc.
A great amount of patience and back breaking work will need to go into decorating a guitar cake. You have to also remember to evenly spread out the colored layering that you are doing to the cake. Trim the edges well, and smoothen the coating with a spatula. While drawing the lines for the strings on the guitar, use the piping or the lettering technique.
Decorating the guitar cake will surely get you the cool mom tag and before you know it you might start taking party orders.
Image Credit: wildflowersbylori.com
How To Decorate A Guitar Cake