How To Decorate Ice Cream Cone Cupcakes

14 Feb 2011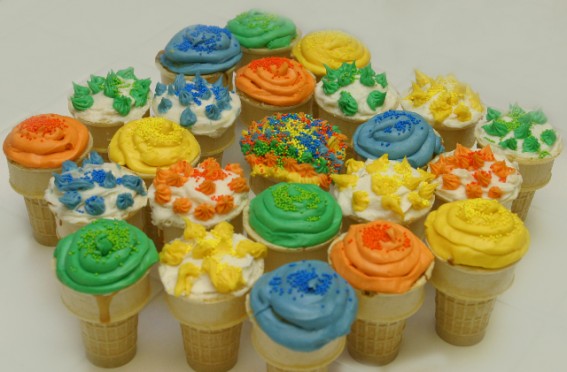 It is fun to make and decorate ice cream cone cupcakes. Cupcakes are appealing to eyes and are loved by kids as well as grown ups. Cup cakes can be decorated in many simple ways. However, before decorating the ice cream cone cupcakes make sure that they have been taken out from the oven well in advance and have properly cooled down.
Different ways to decorate ice cream cone cupcakes
Frosting – This is the simplest and most elegant way of decorating ice cream cone cupcakes. The frosting can be simply spread on cakes or make it more interesting by presenting frosting in a similar manner to a softy ice cream.
Sprinklers ­– If you do not want to decorate ice cream cone cupcakes in plain and simple manner, then, you can make it gorgeous by adding sprinklers over the frosting. Pick up varieties of sprinklers and mix and match them with the colour of the frosting.
Fondant – Fondant is a very traditional method of decorating ice cream cone cupcakes. It makes the ice cream cupcakes not only look special but also taste special.
Fruits – This is another interesting way of decorating ice cream cone cupcakes. You can use fresh fruits or glazed fruits to decorate the cakes and this will make the cupcakes a healthy option for your kids.
Whipped cream – Using fresh whipped cream for decorating ice cream cone cupcakes is a good idea but these cannot be kept fresh for longer. If you are decorating cupcakes in this manner, then, remember to keep the cakes in the fridge as soon as you finish decorating. You can add fresh fruit pieces with the whipped cream and this turns the cupcakes into a tasty cold dessert.
While decorating cup cakes with above methods, keep in mind the occasion for which the cup cake is made. If it is made for special occasions like a birthday party or Halloween, then, decorations can be matched with the theme. If you are making it at home as a dessert or a tea time snack, then, decorate them simply by adding a couple of chocolate flakes on the side. You can also add a dollop of ice cream and it will be loved by everyone.
Image credit:    butterheartssugar.blogspot.com,        kitchenaidicecreammaker.com,    partycupcakeideas.com 
How To Decorate Ice Cream Cone Cupcakes