Top 5 Ideas To Decorate A Pig Cake

6 Feb 2011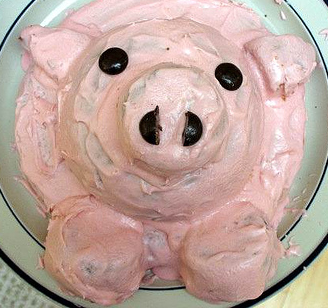 Pig cakes can be used for various occasions, a birthday party for a child of course is the first one that comes to mind but with creative décor a pig cake can be used for many other occasions. You can also decorate a pig cake to make a she and a he pig and turn it into a wedding cake. You can use icing to decorate little cupcakes and make pigs on them.  So, a pig cake does not always mean a child's birthday cake. Learning how to decorate a pig cake is what determines what the cake can be used for.
For decorating you will need a lot of pink butter cream icing. You can either make butter cream at home and color it pink with some pink gel food coloring or simply buy some at the store. However, if bought at the store you need to buy the pink gel food coloring as pink butter cream icing is not available.  If you decide to make it at home, there are several recipes you can find online that will guide you.
To make a pig shaped cake you need to first bake a dome shaped cake and then a flat regular cake to place the dome shaped cake on it. Place two small muffins or cup cake to form the legs of the pig and take one, cut it in half and make the two ears. Cover the entire cake with butter cream icing. Put the pink icing in a pastry bag that has a star tip fitted and cover the entire cake, including the pig's legs and ears, with the pink icing.
For making the little curly tail, you need some pink fondant and you can try 'combing' the hair texture into the fondant with an a low-priced plastic hair comb.  Just lightly comb and lift a little at the end of the stroke to get a realistic, curly effect. If you do this tail with pink fondant, let it dry out a little and dust it with petal dust in a different shade of pink or even red for a more detailed effect.
You can use the brown colored M&Ms for making the eyes, nostrils and the mouth of the pig. If the cake is really big and M&M's may look too small then fruit shaped candies can be used as well.
So now you have learnt how to decorate a pig cake, so enjoy and have fun doing all of this at home.
Image credit - Flickr
Top 5 Ideas To Decorate A Pig Cake