How To Make Ladybugs Out Of Fondant For Decoration

6 Feb 2011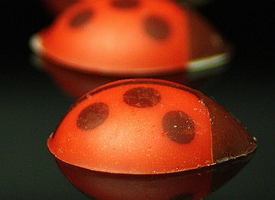 Making ladybugs out of fondant can be a fun task if you are fond of baking and decorating desserts and cakes. Most people will have no idea what fondant is, even though it is very popular in cake decorating. Fondant is the firm sugary icing that covers most cakes for special occasions such as birthdays and weddings. Fondant or sugar paste mostly contains confectioner's sugar and gelatin. It may be embellished, manipulated, patterned, rolled and cut into shapes. It works well to cover cakes so that they stay fresh and provides a level and silky surface for adding decorations. Want to learn more about decorating with fondant? Keep reading.
If you decide to make the fondant at home, remember to make the dough and the icing at room temperature. If it is too hot or cold, it could ruin the dough. When gauging how much fondant will be needed to make the decoration, always over estimate rather than making less.  In the off chance that you do have left over fondant it can always be stored and used for later or perhaps even in making some more decors for the cake.  The working surface where you are making the fondant should be smooth and clean, remove all jewelry from your wrists and fingers as it could spoil the surface of the fondant. Make sure you make rolled fondant for making the ladybugs.
Now for the ladybugs, these cute little creatures are so simple to make. Looking at them sitting atop cupcakes and other desserts, you will get little daunted by how professional and difficult they look to re-create but you are going to be so very surprised by making it yourself. You can either use store bought ready to roll fondant or the homemade kind. You should have it in three colors – red, green and black. 
What we're doing here is making tiny balls from the 3 different colored rolls of fondant and then merely squashing them together with just a tad bit of water that acts as the glue. You need to give them about 24 hours to dry properly. You can make these several days in advance and store them in an airtight container. Never put them in the refrigerator. I personally think it's always a good idea making ladybugs in advance and storing them away so that whenever you want to make a cake on whim or if a sudden occasion pops up, you already have the cake decoration ready.
Image credit - Flickr
How To Make Ladybugs Out Of Fondant For Decoration